Conway Hall is the ol
dest surviving freethought organisation in the world and holds t

he largest and most comprehensive humanist research resource in the UK.

You can find out more about our printed and archive collections in the following sections.
We're closed to the public but open for venue hire (within current guidelines).
Visits are by arrangement only.
We'll continue to update this page with visitor information as things develop.
Conway Hall Library is (usually) open to all. Whether you are conducting research, need a space to study, or just wish to enjoy our atmospheric Arts and Crafts style library.
Under current guidelines (as of Jan 2021), we are unable to welcome visitors to the Library. However, we welcome research and general enquiries via our online enquiry form, telephone or by post and aim to respond within 10 working days. Please consult the collections pages and online catalogue for information about our collections. Unfortunately, due to limited staff capacity, we are unable to answer in-depth research queries.
When we are open, members of Conway Hall Ethical Society may borrow books and we are also open as a reference library to non-members. Free WiFi, access to power sockets and a multi-copier for scanning and copying items are available. You will need to Library staff if you wish to photograph our collections.
We are committed to promoting inclusive practice at Conway Hall. Due to the constraints of our historic building there currently is no step-free access to the Library, but we are happy to discuss how we can make our materials accessible to you. We vary the location of Library events with ground level rooms, and will use your comments to enable us to develop ways to ensure that everyone is able to attend events in the future. Please contact us for further information about accessing the Library.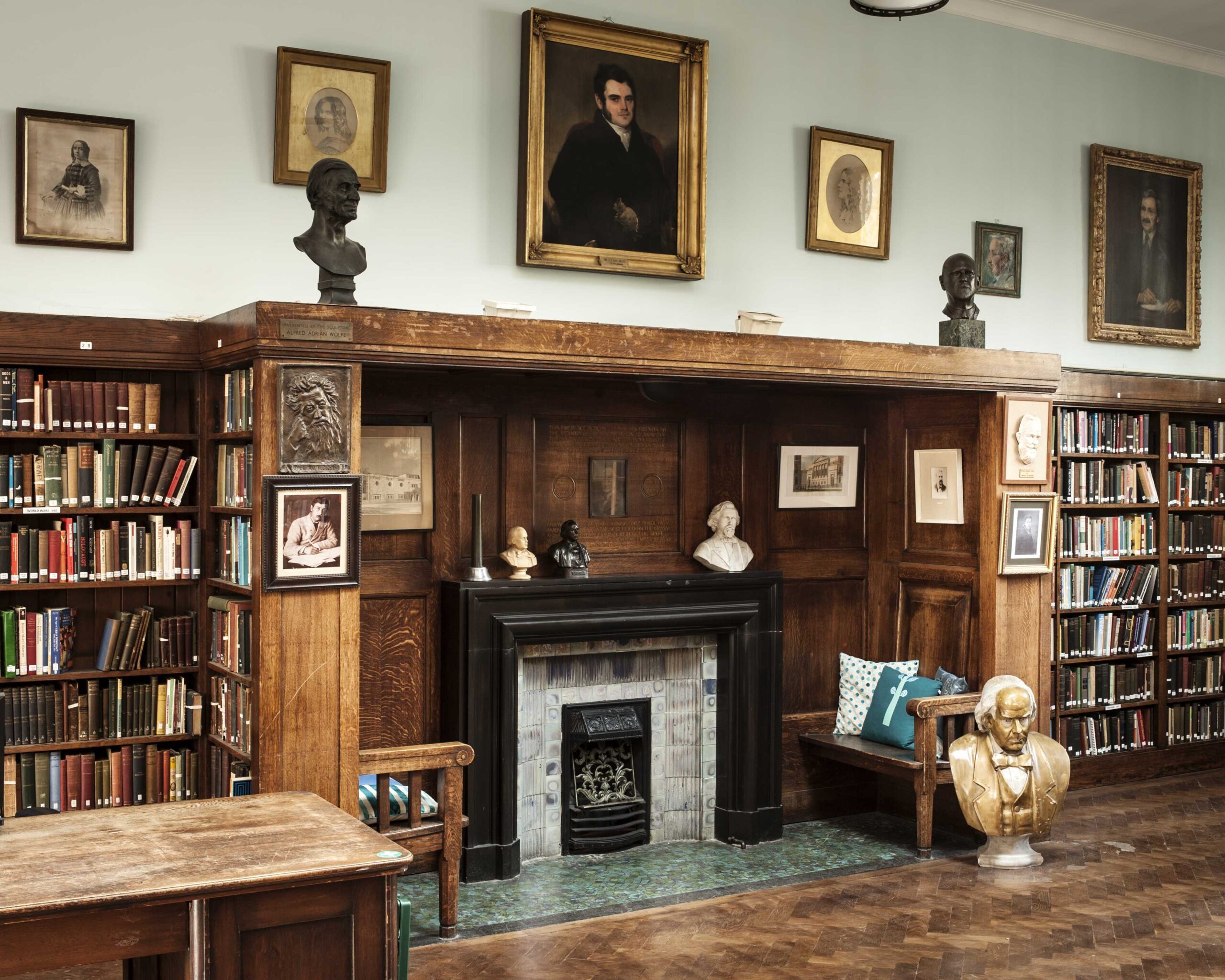 About The Collection
Since 1886, Conway Hall Humanist Library and Archives has been a haven for the radicals, political and social reformers and freethinkers who dared to dream of a better world. The first incarnation of the library at the Society's then home, South Place Chapel, Finsbury, appeared at a time when public lending libraries were scarce, and self-education was being promoted. Members of the Society proposed that a library be instated, and the first donations were requested from the membership. Beginning as a general lending library offering a wide-ranging collection of diverse subjects to suit the needs of the membership, the library has since evolved and grown to become the country's only specialist humanist library. Along the way we have acquired the library of the Rationalist Press Association, the Stanton Coit Library, and the National Secular Society's Library and Archives.
Our collections include printed materials such as books, pamphlets and journals as well as archival material of unpublished institutional and personal records and papers, such as manuscripts, letters and photographs.  We also have a collection of artworks and artefacts.
Digital Collections
Conway Hall Library & Archives has its beginnings back in 1886 when our Ethical Society first began collecting books for the betterment of its membership. In keeping with the Society's thirst for knowledge and understanding of the world and our place within it, we are developing our digital collections and sharing them beyond the confines of our building.
Thanks to £88,000 from the National Lottery Heritage Fund, Conway Hall is currently digitising over 1,300 nineteenth-century pamphlets as part of the Victorian Blogging project. The pamphlets discuss issues such as secularism, parliamentary reform, blasphemy laws, freedom of the press, women's rights, suffrage, Irish home rule, the Corn Laws, birth control, vivisection, socialism, and vegetarianism (to name but a few).
This collection is available on our digital collections platform and on Wikimedia Commons, under a Creative Commons license.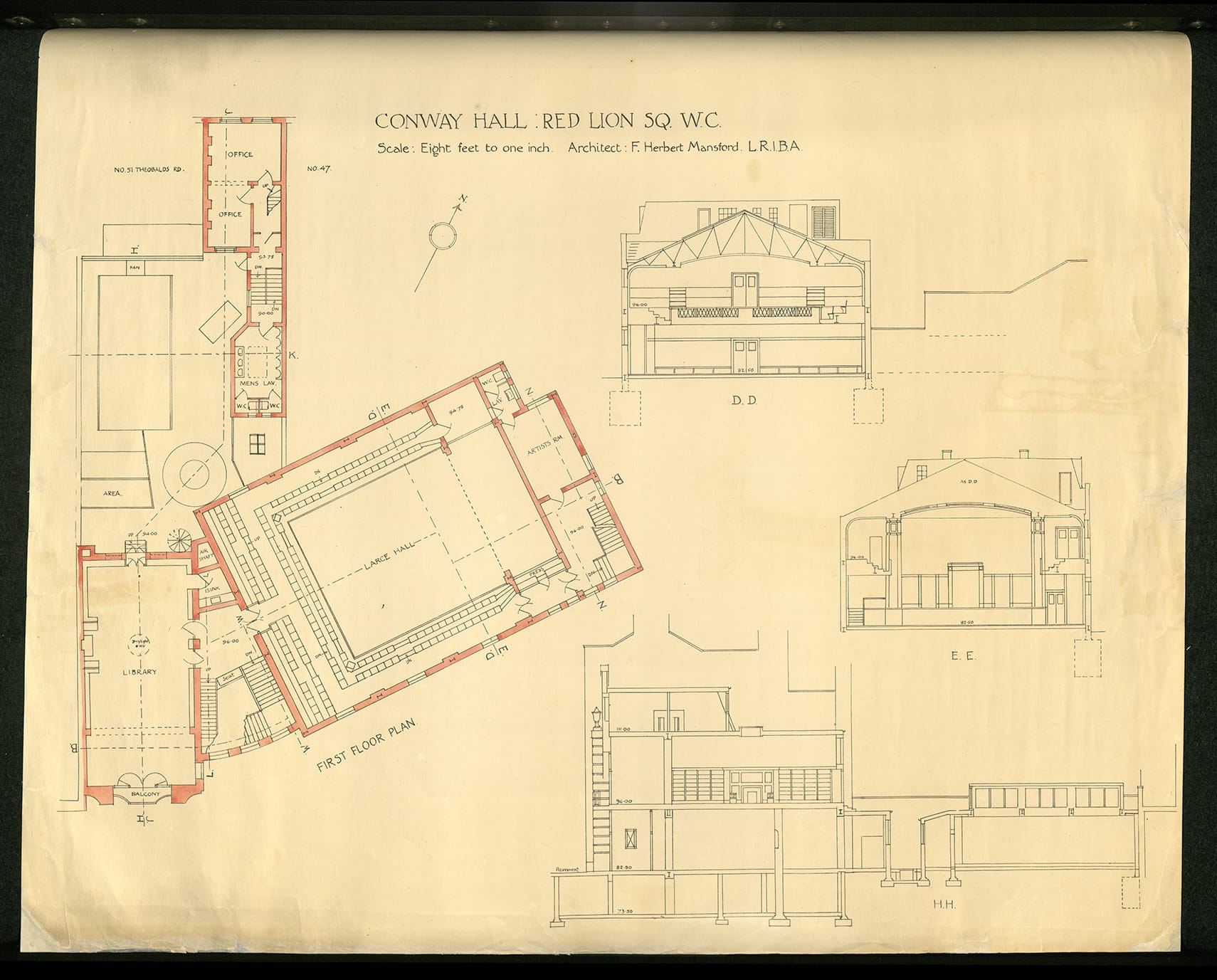 Explore the history of the buildings that have sheltered Conway Hall Ethical Society and the spaces that we have called home by viewing our digitised archive collection, Architecture and Place.
Listen to Pause for Thought, a humanist alternative to the BBC Radio 4 programme Thought for the Day, that was broadcast on BBC World Service from 1997-99. These audio files were kindly donated to Conway Hall by producer, Christopher Templeton.
Contact the Library
You can contact us at:
Conway Hall Library
25 Red Lion Square
London
WC1R 4RL
Telephone: +44 20 7061 6747 (Not currently monitored)