Antony Beevor: The Soviet Union and the Second World War
7th September 2021 · 7:30pm
Main Hall | Virtual event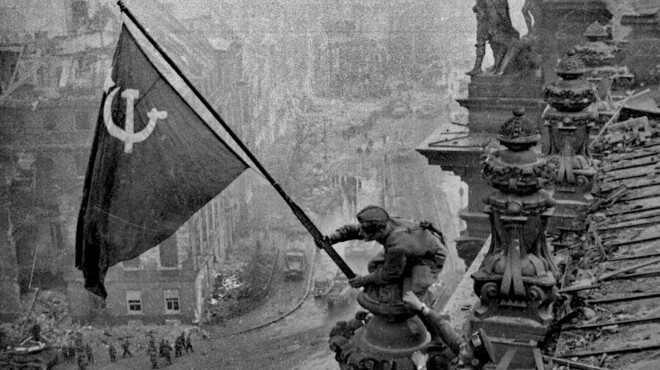 7th September 2021 marks both the 81st anniversary of the start of the Blitz in London, and the 76th anniversary of the 1945 Allied victory parade in Berlin, attended by Marshal Zhukov and Generals Patton and Robertson. In a special lecture for Pushkin House, acclaimed historian Antony Beevor, the author of Stalingrad, Berlin: the Downfall 1945, and The Second World War as well as joint editor of A Writer at War – Vasily Grossman with the Red Army, 1941-1945, looks at myths and misunderstandings around the Soviet role in this conflict. The controversy continues, both in the West and in Russia.
Sir Antony Beevor FRSL, FRHistS, was educated at Winchester and Sandhurst, where he studied military history under John Keegan. A regular officer with the 11th Hussars, he left the Army after five years to write. He has published four novels, and twelve books of non-fiction. His work has appeared in thirty-two foreign languages and sold more than eight million copies. According to the Bookseller, 'Beevor is the bestselling historian of the BookScan era'.
His books include Inside the British Army (1990); Crete — The Battle and the Resistance (1991), which was awarded a Runciman Prize, and Paris After the Liberation, 1944-1949 (written with his wife Artemis Cooper and published in 1994). He has also contributed to several books including The British Army, Manpower and Society into the Twenty-First Century, edited by Hew Strachan; to Russia – War, Peace & Diplomacy in honour of the late John Erickson; to Kokoda – Beyond the Legend (2017) edited by Karl James; and The End of 1942 – A turning point in World War II and in the Comprehension of the Final Solution? (Yad Vashem, 2018) edited by Dina Porat and Dan Michman.
Pushkin House is the independent Russian cultural centre in London. Since 1954 it has worked to spread interest in and appreciation of Russian culture through dialogue, art, music and literature, with freedom of speech as a core principle. Pushkin House runs a year-round programme of talks, concerts, exhibitions and screenings, both at its home in Bloomsbury Square, and further afield in the physical and digital worlds. Incorporated as a charity in the UK, and receiving no funding for its events from either the Russian or British governments, Pushkin House awards an annual book prize of £10,000 for a non-fiction book written about Russia, and hosts an annual Russian music festival.
LINKS FOR FURTHER INFO:
Website: https://pushkinhouse.org
Facebook: facebook.com/PushkinHouseLondon
Twitter: @Pushkin_House
Instagram: instagram.com/PushkinHouseLondon