Arcis Saxophone Quartet
8th December 2019 · 6:30pm
Main Hall | Virtual event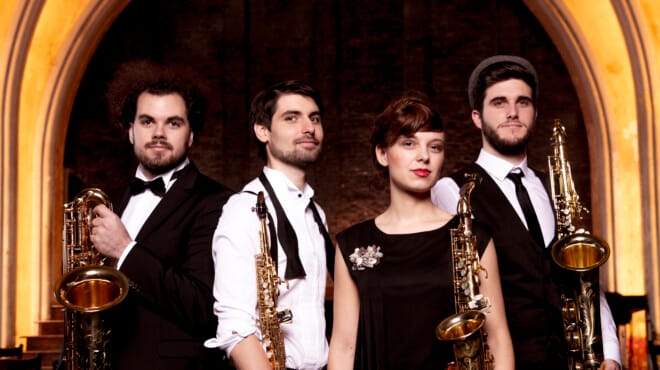 'American Dreams'
Endless fascinating prairie landscapes; the exciting pulse of the city that never sleeps; the swinging life of the Southern states; stories full of dreams, hopes and love. In 'American Dreams', the Arcis Saxophone Quartet presents a broad musical range of the American way of life.
Reich | New York Counterpoint
Dvořák | Quartet in F "American" Op.96
Bernstein | West Side Story suite for saxophone quartet
Barber | Adagio for Strings (arr. for saxophone quartet)
Gershwin arr. Dedenon | Suite after themes of Porgy and Bess, for saxophone quartet
Claus Hierluksch (soprano saxophone)
Ricarda Fuss (alto saxophone)
Edoardo Zotti (tenor saxophone)
Jure Knez (baritone saxophone)
Conway Hall Sunday Concerts
Founded in the 1880s, our chamber music concert series is the longest-running of its kind in Europe. Conway Hall was purpose-built in 1929 to host concerts and lectures, and they have continued here until the present day. The ethos of "affordable classical music for all" still remains. Visit our website for more information about all our Autumn 2019 Season music events, including concerts, pre-concert talks and recitals.
—
This event is in the Main Hall on the ground floor. For accessibility info: https://conwayhall.org.uk/about/visiting-us/
It is part of Conway Hall Ethical Society's charitable programme and is tax-exempt.