Celebrate Christmas with Beethoven and Others in Style – Claudio Bohorquez & Alberto Portugheis
15th December 2018 · 7:00pm
Main Hall | Virtual event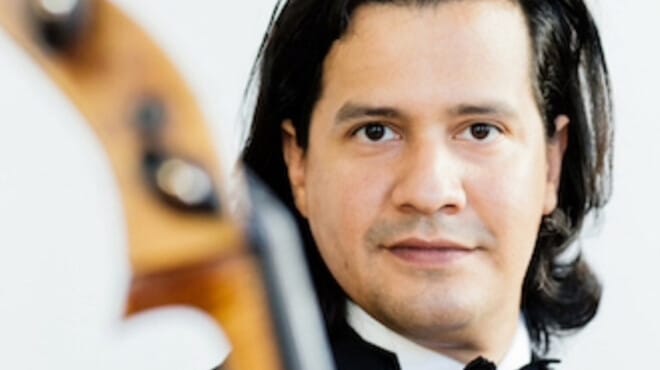 Come and celebrate Beethoven in style with Claudio Bohorquez (cello) and Alberto Portugheis (piano).
This is an exclusive and unique opportunity to experience the performance of two international, well-known and highly respected interpreters of Beethoven, who will join forces in telling the story of the composer's life through his five Cello and Piano Sonatas, on the eve of his birthday. It also celebrates Thomas Harris' own love of Beethoven. To hear all of these masterpieces in one fell swoop is a special occasion indeed, rarely to be found.
Enjoy a much-needed break as a prelude to Christmas to treat yourself and others (perhaps as a Christmas gift?) to spectacular music over the weekend, whether for the exclusive Beethoven Concert on the Saturday and/or the traditional Conway Hall Sunday Concert on the Sunday, offering a different musical range – there is something for all ages and choice.
Claudio Bohórquez, has been hailed as one of the most exciting and fascinating musicians of his generation by conductors, audiences, concert presenters and critics alike. His recent tour with the National Symphony Orchestra under Christoph Eschenbach with concerts in Washington and Latin America was a huge success. Claudio Bohórquez regularly displays his talent as chamber musician, appearing with a string of international stars. He achieved success at several international competitions including the Pablo Casals Competition, where apart from the First Prize, he was presented with a special award for the best chamber musician. He later won First Prize at the International Music Competition in Geneva. Meanwhile he has become a teacher himself: since 2003 he is guest professor at the 'Hanns Eisler' Academy of Music in Berlin and was appointed Professor at the Stuttgart Music Academy in autumn 2011.
Pianist and pedagogue Alberto Portugheis' international career began after winning First Prize at the Geneva 'Concours de Virtuosité'. Music has taken him to over fifty countries, performing in solo and chamber-music concerts and as soloist with major orchestras.  These include: Royal Philharmonic, LondonSymphony Orchestra, London Mozart Players, Philharmonia, English Chamber Orchestra, Lausanne Chamber Orchestra, Parisand Israel Sinfoniettas, Orchestre de la Suisse Romande, Sinfonica Nacional of Argentina, Filarmonica of Buenos Aires. His annual Steinway Masterclasses are now legendary, as well as his recordings, which started in the early seventies. Alberto Portugheis is co-founder and former Vice-chairman of the Beethoven Piano Society of Europe, Vice-chairman of the International Society for the Study of Tension in Performance, Vice-president of the European Piano Teachers' Association and founder of the Asociacion Latino-Americana de Pianistas Pedagogos.
Tickets are £20 per person and £7 for students for the Saturday Concert, to include a welcoming glass of bubbly Christmas spirit.
If you would like to attend both the Saturday Concert and the Sunday Concert on 16th December – Chamber Ensemble of London – a special discount is available for both: £24 per person and £14 for students.
To purchase tickets, click on the booking link or click here.
Donations are also gratefully received and will be acknowledged by name in the programme.
Unsold tickets for the concert(s) will also be available on the door.
Please visit our website to see how we aim to support young performers: thethomasharrisinternationalpianofoundation.com
Charity no: 1175378