Chamber Ensemble of London presents:
Chamber Ensemble of London:


Anglo-American Concert

17th March 2022 · 7:30pm

In person

Event has passed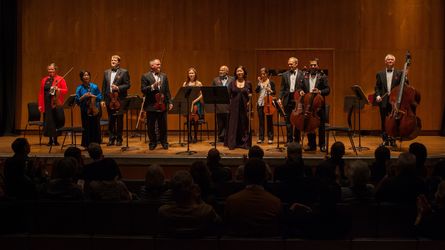 Chamber Ensemble of London directed by Peter Fisher with solos by Peter Cigleris (clarinet)
A (mostly) light-hearted concert celebrating transatlantic connections. Clarinettist Peter Cigleris has given masterclasses and university performances in the USA. His recent British concerto recordings have been played on American radio as well as BBC Radio 3 which has also featured the Clive Jenkins items in this programme.
Programme:
Bernstein
| Candide Overture
Clive Jenkins | Five Pieces for clarinet & strings
Walton | Two Pieces from Henry V
Elgar | Chanson de matin
Elgar | Chanson de nuit
Vieuxtemps | Variations on 'Yankee Doodle'

Gershwin | Three Preludes for clarinet & strings
Gershwin | 'Summertime' for clarinet & strings
Barber | Adagio for string
Alwyn | Love Theme from 'The Fallen Idol'
Leroy Anderson | Selection of much-loved titles including: 'Blue Tango', 'Forgotten Dreams' and 'The Typewriter'
Copland | 'Hoe Down' from 'Rodeo