Vedanta Institute London presents:
Decode The Gita
8th June 2022 · 7:00pm
Main Hall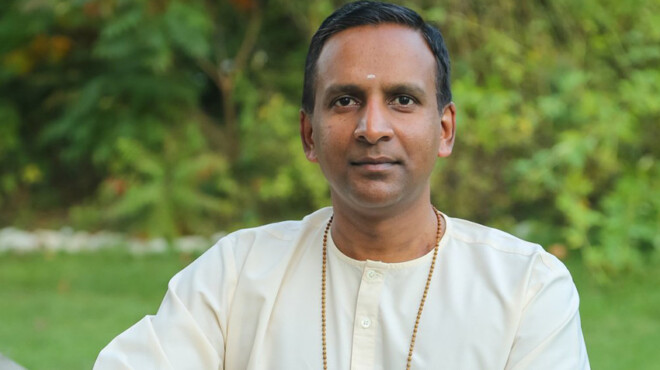 The Bhagavad Gita is an ancient scripture which contains essential values of living which are relevant for the modern times. The Gita is not a religious text but a philosophical one and is applicable to people from all backgrounds the world over. Aldous Huxley from his lifelong study of philosophy writes: "Gita is one of the most clear and comprehensive summaries of perennial philosophy ever revealed; hence its enduring value is subject not only to India but to all of humanity." The Gita helps one to achieve material and spiritual success. It can be applied at work, in your homes and for self-development. The study of the Gita will help one become stress-free, self-sufficient and self-motivated.
Bhaskar Ramachandran, respectfully known as Bhaskarji, is a senior disciple of the world-renowned philosopher Swami Parthasarathy. In the one-hour lecture he will be explaining the benefits of the Gita to managing oneself, their work and relationships in order to achieve success and stress-free living. He has addressed various organisations such as the Young Presidents Organisation, Accenture, JPMorgan, BP, British Wheel of Yoga, John Lyon School among others. Over 100 people regularly attend his weekly classes in the UK. Bhaskarji had a successful career in the Merchant Navy and he graduated from a three-year residential course under the guidance of Swami Parthasarathy. He is the managing trustee of the registered charity, Vedanta Institute London.