Ethical Matters: We are "nature" defending itself – Art, Activism and Autonomous zones
15th November 2021 · 7:30pm
Main Hall | Virtual event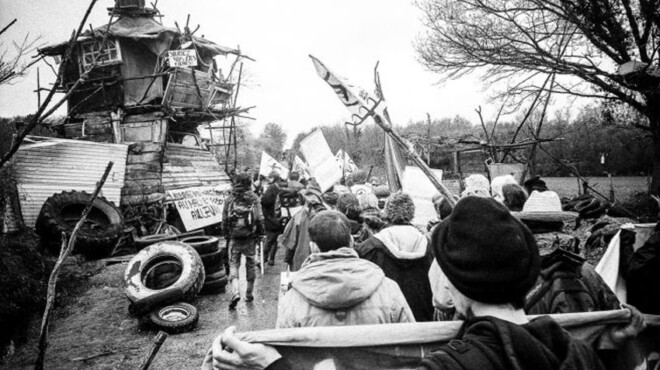 ** This event will be held with an in-person audience at Conway Hall *AND* online, via Zoom. Everyone wishing to join this event must register for a ticket in advance, using the "Book Now" link **
In 2008, as the storms of the financial crash blew, Isabelle Fremeaux and Jay Jordan deserted the metropolis and their academic jobs, traveling across Europe in search of post-capitalist utopias. They wanted their art activism to no longer be uprooted.
They arrived at a place that French politicians had declared lost to the republic, otherwise known as the zad (the zone to defend): a messy but extraordinary canvas of commoning, illegally occupying 4,000 acres of wetlands where an international airport was planned. In 2018, the 40-year-long struggle snatched an incredible victory, defeating the airport expansion project through a powerful cocktail that merged creation and resistance. … It was not the end of the adventure.
How do we radically transform art, activism and everyday life in the midst of the horrors of the Capitalocene? A new publication by artist activists from the Laboratory of Insurrectionary Imagination, Isabelle Fremeaux and Jay Jordan, grapples with these questions via their version of the incredible story of the zad. Isabelle and Jay will be touring the UK during COP26 to tell stories of the creative direct action that merged with building revolutionary commoning against the airport and its world, bringing farmers and activists together, including designing rituals disguised as demonstrations, planting gardens on runways, occupying a bridge with 500 tractors, 1000 bikes and 20000 people and building a working lighthouse on the site where they wanted to build the airport control tower
Fremeaux and Jordan blend rich eyewitness accounts with theory, inspired by a diverse array of approaches, from neo-animism to revolutionary biology, insurrectionary writings and radical art history. Their book We are "nature" defending itself. Entangling art, activism and autonomous zones will be available on the day. 
Jay Jordan is co-founder of Reclaim the Streets (1995-2000) and the Clandestine Insurgent Rebel Clown Army, and co-author of We Are Everywhere: The Irresistible Rise of Global Anticapitalism (Verso, 2003) and A User's Guide to Demanding the Impossible (Minor Compositions, 2011). He is a coordinator of The Laboratory of Insurrectionary Imagination.
Isabelle Fremeaux is a popular educator and action researcher. She was formerly Senior Lecturer in Media and Cultural Studies at Birkbeck College London. Along with Jay Jordan, she is a coordinator of The Laboratory of Insurrectionary Imagination.
** For those joining us online, we will be using the Zoom application (available for PC, Mac, iOS and Android). A link to join the talk will be sent to ticketholders before the event. **