Eusebius Quartet
14th January 2018 · 6:30pm
Main Hall | Virtual event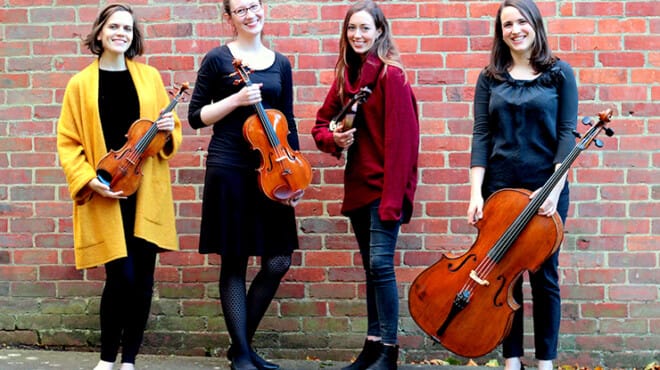 The Eusebius Quartet make their Conway Hall debut, performing classics by Haydn and Mendelssohn, and a string quartet by Erich Korngold, a composer more synonymous with the Hollywood film score.
Beatrice Philips (violin)
Venetia Jollands (violin)
Hannah Shaw (viola)
Hannah Sloane (cello)
Haydn Quartet in B flat Op. 64 No. 3
Korngold Quartet No. 2
Mendelssohn Quartet No.1 in E flat Op. 12
---
The Eusebius Quartet are fast gaining a reputation for imaginative and communicative performances. Formed in autumn 2015, they were resident String Quartet at the Lewes Chamber Music Festival 2016 and 17 and at FitzFest, Fitzrovia's newest music festival playing quartets by Schumann, Mendelssohn, Haydn and Bartok. Since forming they have appeared at numerous London venues including St James' Piccadilly, the Foundling Museum, Blackheath Halls as well as other venues across the country.
The quartet enjoys exploring unusual repertoire and last year collaborated with pianist Alasdair Beatson in three performances of Gabriel Pierné's Piano Quintet. They have also performed with clarinetists Matt Hunt and Michael Collins and bassoonist Amy Harman and oboist Daniel Bates. The Eusebius Quartet performed live on BBC Radio 3's In Tune earlier this year before appearing as quartet-in-residence at the Wye Valley chamber music festival 2017. Here, they performed Beethoven's Opus 132 and collaborated with Marie Bitloch of the Elias Quartet in a performance of Taneyev's String Quintet No.2.
The Quartet returned to the Foundling Museum in Bloomsbury, London, last February with a concert coinciding with the launch of a new exhibition "Child's Play". This project paired repertoire with particular paintings and themes from the museum's collection, preceded by a tour of local primary schools in Camden and a live broadcast on BBC Radio 3's In Tune. These projects give these school children the opportunity to hear and interact with a professional live string quartet.
The members of the quartet have played together in different formations for many years, having met as teenagers studying together and then again later at IMS Prussia Cove. After completing studies in London, New York, Helsinki, Paris and the Netherlands they have been very excited to reunite as a quartet, sharing their passion for the extraordinary music written for this formation. The quartet enjoys experimenting with different styles of playing, studying early Haydn editions as well as string quartet recordings made in the twenties and thirties and feel extremely lucky to have this opportunity to spend their lives exploring the intricacy and importance of fine quartet-playing today.
The quartet takes its name from one of the two fictional characters invented by Robert Schumann for his musical journal writings. These characters became symbolic of Schumann's opposing moods: the fiery and impassioned Florestan contrasted the more introverted and dreamy Eusebius.