Fitzwilliam Quartet & Simon Callaghan
1st December 2019 · 6:30pm
In person | Virtual event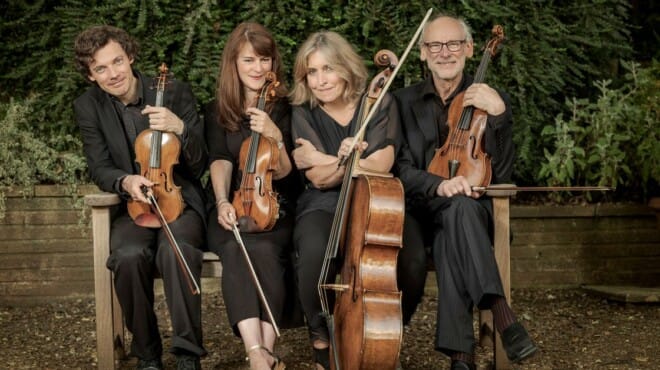 Elgar's piano quintet is one of three works completed during the summer of 1918 (the other works being the string quartet and the violin sonata), while he was staying at Brinkwells in Sussex, a country cottage rented by the Elgar family, and is dedicated to Ernest Newman, music critic of The Guardian. Simon Callaghan joins the Fitzwilliam Quartet for this performance, which will also include Haydn's 'Frog' quartet, and Beethoven's masterpiece, his 'Serioso' quartet.
Haydn | String Quartet in D 'The Frog' Op.50 No. 6
Beethoven | String Quartet No. 11 in F minor 'Serioso' Op.95
Elgar | Piano Quintet in A minor Op.84
Lucy Russell (violin)
Marcus Barcham Stevens (violin)
Alan George (viola)
Sally Pendlebury (cello)
Simon Callaghan (piano)
Conway Hall Sunday Concerts
Founded in the 1880s, our chamber music concert series is the longest-running of its kind in Europe. Conway Hall was purpose-built in 1929 to host concerts and lectures, and they have continued here until the present day. The ethos of "affordable classical music for all" still remains. Visit our website for more information about all our Autumn 2019 Season music events, including concerts, pre-concert talks and recitals.
—
This event is in the Main Hall on the ground floor. For accessibility info: https://conwayhall.org.uk/about/visiting-us/
It is part of Conway Hall Ethical Society's charitable programme and is tax-exempt.