GynaeComedy
10th April 2019 · 8:00pm
Main Hall | Virtual event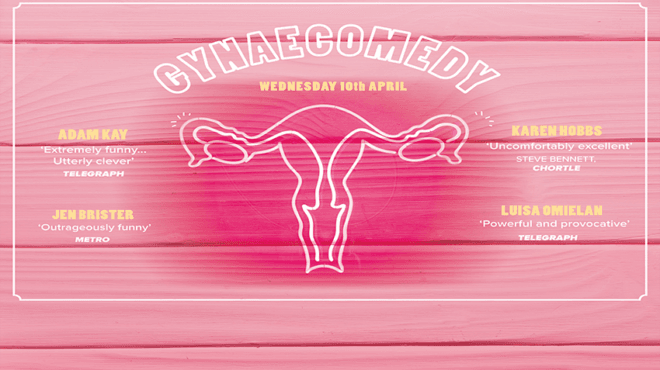 Get ready for an evening of laughing at things we shouldn't laugh at and plenty of vagina banter all whilst raising awareness of gynae cancers.
Following last year's remarkable sell-out success, women's cancer charity, The Eve Appeal, is holding their second, annual GynaeComedy on Wednesday 10th April!
The awesome line-up so far includes:
Adam Kay – award-winning performer and author of the multi-award winning, million-copy bestseller book "This is Going to Hurt", an honest and hilarious account of his time as a junior doctor in obstetrics and gynaecology.
Jen Brister – critically acclaimed stand-up comedian, writer and actor. Jen has written and performed five solo shows around the world, including at Melbourne International Comedy Festival and the Edinburgh Festival.
Luisa Omielan – stand-up comedian who epitomises female empowerment. The creator of three iconic solo shows – "What would Beyoncé Do?!", "Am I Right Ladies?!" and "Politics for Bitches", Luisa has multiple 5 star reviews to her name and a fiercely loyal fan base.
Karen Hobbs – comedian, writer and the number one fan of her vagina. She was diagnosed with cervical cancer at 24, and now performs stand-up comedy about the whole debacle for a) attention and b) in order to squash the stigma that surrounds having a disease in-between your legs.
—
This event is in the Main Hall on the ground floor. For accessibility info: https://conwayhall.org.uk/about/visiting-us/
.