Interesting 2016
15th September 2016 · 7:00pm
In person | Virtual event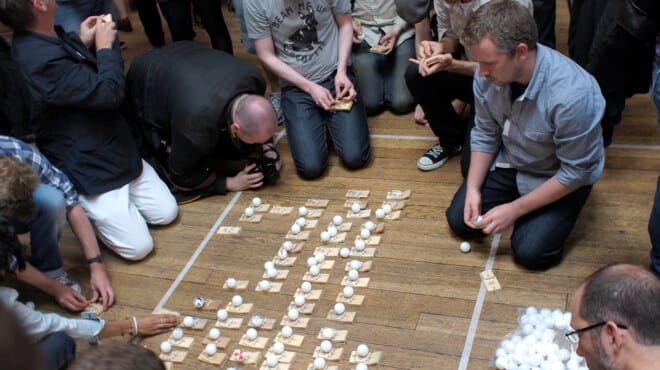 Interesting Conference speakers for 2016:
Abbey Kos – wine tasting – with actual wine
Ade Adewunmi – the importance of watching TV
Alby Reid – polonium poisoning
Alice Bartlett – tampons and (possibly) Tampon Club.
Craig Smith – his Dad's relatives, including the first person to get convicted for football hooliganism using video evidence and an actor who played one of Papa Lazaru's henchmen in League of Gentlemen and an Ewok in Return of the Jedi
Diego Maranan – will talk about getting "people more aware of their bodies through clothing (and will try to convince people why body awareness matters in the first place".
Ella Fitzsimmons – Northern Europeans and gnomes
Helen Castor – (Not sure yet)
Ivor Williams – The ways in which we used to die, and how I hope we'll die in the future.
Kim Plowright – "try and explain what it feels like to preserve memories and talk about dementia and death on social media, whilst still occasionally making people laugh (and how her Mum would've had her guts for garters if she'd realised what she was up to)"
Lauren Brown – (Not sure yet)
Lisa Rajan – the story behind Tara Binns
Lucy Blackwell – the story of my life through calendars
Nat Buckley – "why flyknit is the most revolutionary thing since sliced bread"
Rachel Coldicutt and Sophie Sampson – "the important matter of Getting Dressed"
Rebecca Kemp – lipstick
Rujuta Teredesai – 'agile for social development'
Sharon Dale – 'my stroke story'
Tim Dunn – The Sierra Leone National Railway Museum
Tom Whitwell – (Not sure yet)
The Interesting Conferences started with this post in March 2007. Inspired by TED but wanting to do something cheaper, closer to home and less, well, zealous.
We did it again in 2008 and 2009 but had a break in 2010. (We had PaperCamp 2 instead). Fortunately in that year the Boring folk started up, giving the world's journalists the chance to say that "Interesting had been cancelled due to lack of interest". We did another one in 2011 – with a slightly different format.
Now we're back at Conway Hall for Interesting 2016.
Visit the website for up-to-date information.