Islam and the West: a personal perspective — a lecture by Sir Michael Atiyah, OM FRS
14th September 2016 · 7:00pm
Main Hall | Virtual event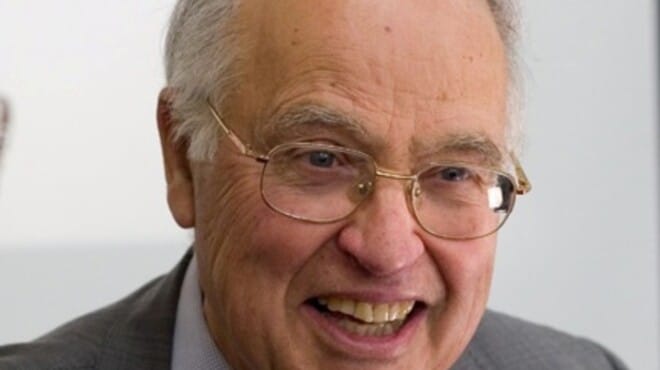 Sir Michael Atiyah will discuss aspects of the relationship between Islam and the West from a historical perspective, building on his personal involvement. He will emphasise the cultural, scientific and commercial interactions over the centuries which brought benefits to both sides. But he will also trace the hostility initiated by the crusades, inherited by the colonial era, culminating in the present time in the demonisation of Islam and the rise of extremism on all sides. He will look at the ethical issues involved as well as the political and security aspects.
Michael Atiyah's father was Lebanese and his mother Scottish. Michael grew up in Sudan and Egypt and spent most of his adult life in England, the USA and Scotland. He is a distinguished mathematician and has played prominent leadership roles in science and academia. He is also a noted public intellectual, speaking out with vigour and passion on matters of topical political concern. Atiyah on Islam and the West is sure to be a stimulating event.
The event will be chaired by Dr Philip Webber, a physicist and award-winning environmentalist who has written widely on the need to use science and technology to contribute to peace, social justice and environmental sustainability.
Sir Martin Ryle (1918-1984), FRS, Astronomer Royal, Nobel Laureate, was a physicist, radio astronomer, engineer, champion of the constructive use of science and technology, and passionate critic of injustice and militarism. The Martin Ryle Trust is a registered charity that continues Ryle's efforts in promoting justice, peace and the constructive uses of science and technology.
Proceeds from this event will be used to fund work to further this goal.
Dr Webber is a Nuclear weapon/defence expert and author of numerous books and reports on nuclear weapons. His expert evidence has been used at state level contributing to a new UN nuclear disarmament working group (OECD) supported by 120 nations currently working towards a new ban treaty.
He holds a PhD from Imperial College London and has worked since the 1980's to promote the responsible use of science, design and technology with Scientists for Global Responsibility. He was the head of major environment programmes at Kirklees Council, West Yorkshire, up to 2011, which included award-winning £21m home insulation and large scale photo-voltaics.
With another Martin Ryle Trustee, Vanessa Spedding, in 2003, prior to the invasion of Iraq, he co-authored a report arguing the folly and false basis of the invasion and the lack of any evidence for WMD.
Professor Sir Thomas W B (Tom) Kibble, FRS, CBE (23 December 1932 – 2 June 2016) was a Martin Ryle Trustee (and for a period its Chair) and was a key contributor to the planning of this first Martin Ryle lecture. The lecture is dedicated to the memory of Tom and his promotion of the social responsibility of scientists.
The event opens at 7:00 pm with a bar and light refreshments. Sir Michael's talk will start at 7:30 pm.