It's My Party and I'll Dry If I Want To
23rd January 2022 · 11:00am
In person | Virtual event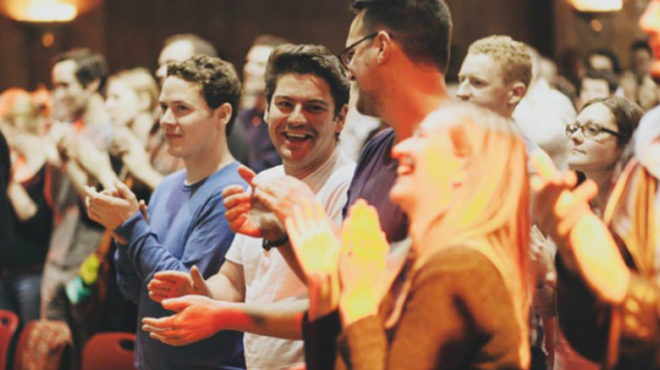 Happy New Year, and 9th birthday to Sunday Assembly! We've got a lot to celebrate, but we want to make sure we're celebrating in a way that is completely by choice, not hindered by social pressure or habit. That's why we've invited Laura Willoughby and Dru Jaeger, the co-founders of Club Soda, to be our main speakers at this assembly. They will teach us all about 'mindful drinking', and how we can empower ourselves to make conscious decisions about our alcohol consumption.
We'll get this party started with some rockin' tunes performed by the Sunday Assembly band as well as our returning guest performer, Gecko! And community member Fee Bell will give a talk about her own mindful drinking journey.
Please stay after for tea, biscuits, and engaging conversations with members of our community. And later in the afternoon we'll take a group trip to Club Soda's pop-up storefront to taste some delicious alcohol-free beverages.
This will be a hybrid event, which means it will be held in-person as well as live-streamed through our website, https://www.sundayassembly.com. We will make a Zoom room available for livestreamers after the assembly has finished. Link to be shared on the day.
Our assemblies are free to attend, but we kindly request that you support us so we can continue to keep it open to those who cannot afford to contribute. https://sundayassembly.enthuse.com/donate-oneoff#!/