Love Factually
2nd June 2016 · 6:30pm
In person | Virtual event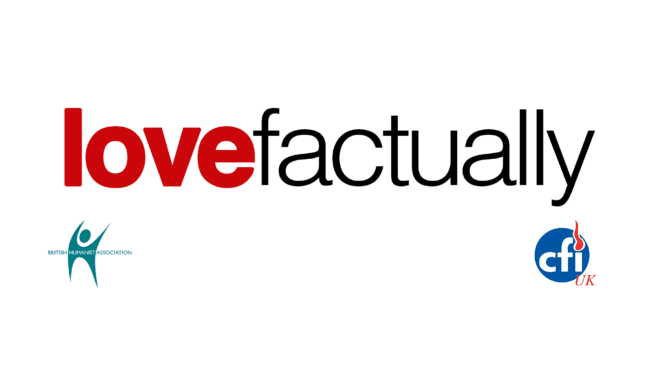 A fun evening of learning all about love, hosted by CFI UK's Stephen Law. Find out about God's secret sex life, exactly what turtles get up to when the lights are out, and a whole lot more. There will be a licensed bar to provide lush libations, and opportunities to buy books by Law, Stavrakopoulou, and Ince, who will be more than happy to sign them for you.
Robin Ince is a well-known comedian and skeptic. He co-presents The Infinite Monkey Cage on BBC Radio 4, and is author of Robin Ince's Bad Book Club and Dead Funny. Francesca Stavrakopoulou is Professor of the Hebrew Bible and Ancient Religion at Exeter's Department of Theology and Religion. She presented the BBC TV series The Bible's Buried Secrets and contributed to Channel 4's The Bible: A History. James David Parker is an internationally recognised award winning magician and philosopher. Stephen Law is philosopher, author of Believing Bullshit and The Philosophy Gym, and head of CFI UK.
Doors open at 18:30 for a 19:00 start.
Tickets cost £10 for the general public and £5 for members of the BHA or Conway Hall Ethical Society.
Please note that tickets must be booked online in advance of the event, and that sales end at 18:00 on 1 June, unless tickets have sold out before then.