Maggini Quartet
8th September 2019 · 6:30pm
Main Hall | Virtual event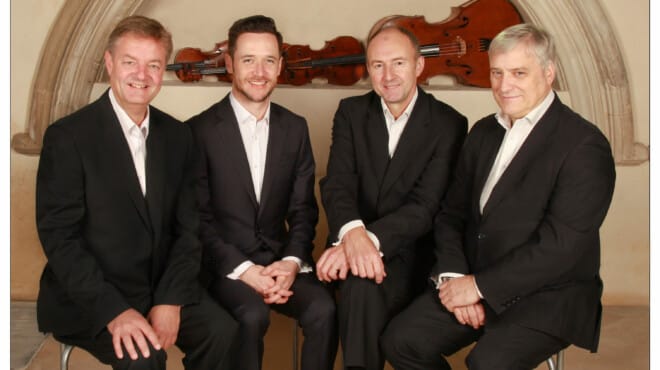 Conway Hall favourites the Maggini Quartet open our Autumn 2019 season with a wonderful mix of 1940s Paris chic and supreme craft from Berkeley between two great works from the classical repertoire. The quartet have won awards including Gramophone Chamber Music Award of the Year and Diapason d'Or, and have twice been nominated for Grammy Awards. We are delighted to welcome them once again to Conway Hall!
Beethoven | Quartet in G Op.18/2
Lennox Berkeley | Quartet No. 2 Op.15
Tchaikovsky | Quartet No. 3 in E flat minor Op.30
Julian Leaper (violin)
Ciaran McCabe (violin)
Martin Outram (viola)
Michal Kaznowski (cello)
http://maggini.net/
Conway Hall Sunday Concerts
Founded in the 1880s, our chamber music concert series is the longest-running of its kind in Europe. Conway Hall was purpose-built in 1929 to host concerts and lectures, and they have continued here until the present day. The ethos of "affordable classical music for all" still remains. Visit our website for more information about all our Autumn 2019 Season music events, including concerts, pre-concert talks and recitals.
—
Photograph copyright Melanie Strover
This event is in the Main Hall on the ground floor. For accessibility info: https://conwayhall.org.uk/about/visiting-us/
It is part of Conway Hall Ethical Society's charitable programme and is tax-exempt.