Mind Your Language
3rd April 2022 · 11:00am
Main Hall | Virtual event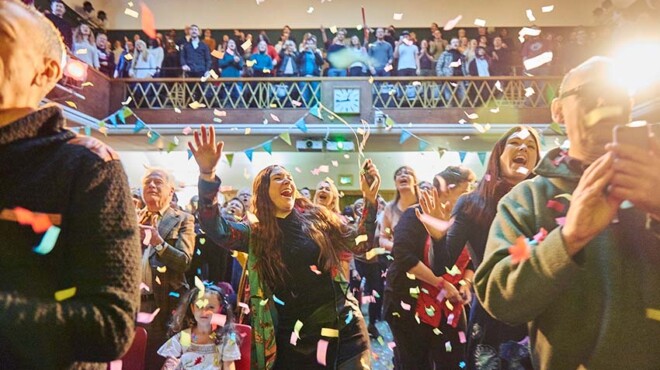 In our modern world, we have become accustomed to the idea that people speak different languages in different places, and that all we need to do is tap a 'translate' button to decipher the code. But languages are more nuanced than that, and it can be difficult to make direct translations. Take, for instance, the warning label found within everyone's favourite 'toy-within-a-chocolate-egg'. Because these ovoid confections are sold globally, the enclosed miniature Rosetta Scroll needs to be understood in no less than 34 languages! Each language has its own cultural history and flavour.
Keith Kahn-Harris, author of The Babel Message: A Love Letter to Language believes that the messy diversity of language shouldn't be a source of conflict, but of collective wonder. In addition to Keith's talk, the Sunday Assembly Band will use the language of music to bring us together, and we'll hear from a guest poet as well as a member of our community who is "Trying Their Best". Stick around after for tea and meaningful chat with others.
This will be a hybrid event, which means it will be held in-person as well as live-streamed through our website, https://www.sundayassembly.com. We will make a Zoom room available for livestreamers after the assembly has finished. Link to be shared on the day.
Our assemblies are free to attend, but we kindly request that you support us so we can continue to keep it open to those who cannot afford to contribute. https://sundayassembly.enthuse.com/donate-oneoff#!/