Odradek Records presents:
Muriel Chemin – Beethoven Piano Sonatas
24th May 2022 · 7:30pm
Main Hall
Event has passed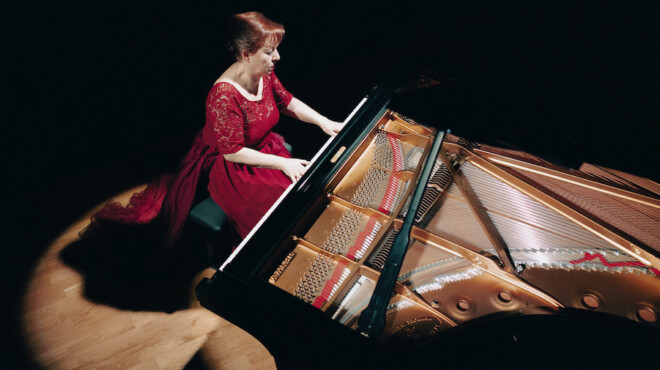 Muriel Chemin presents two sonatas, Sonata No. 3 in C major, Op. 2, No. 3 and Sonata No. 21 in C major, Op. 53, the 'Waldstein', to celebrate the publication of her box set of the complete Beethoven piano sonatas on Odradek Records. She performs them with a rare rigour and authority combined with a signature sweetness. A profound musical research is audible in every passage, from crushingly poignant passages to moments of spine-tingling glory. This set follows upon her acclaimed release of Beethoven's Diabelli Variations on Odradek.
This phenomenal recording is a true labour of love, in which Muriel Chemin brings her "clarity, precision, dynamism and artistic authoritativeness" (Repertoire) and her "combination of rigour, richness and analytical awareness" (Le Monde de la Musique). As Chemin writes, "the opportunity to climb a peak of this importance is a huge privilege for a pianist both as a performer and as an interpreter."
Beethoven has been a constant presence in Muriel Chemin's life ever since, at the age of seven, she first heard his music and began to listen to it frequently and with utter absorption. This love of Beethoven deepened as her career flourished, culminating in the profoundly personal interpretations on this collection. Muriel Chemin brings her passion and integrity to this scintillating music, offering the listener an intimate insight into Beethoven's piano sonatas as they chart the trajectory of his extraordinary musical evolution.
Event has passed