Music-in-Motion Ensemble & Gildas Quartet, directed by John Landor (Evening)
31st October 2017 · 7:30pm
Main Hall | Virtual event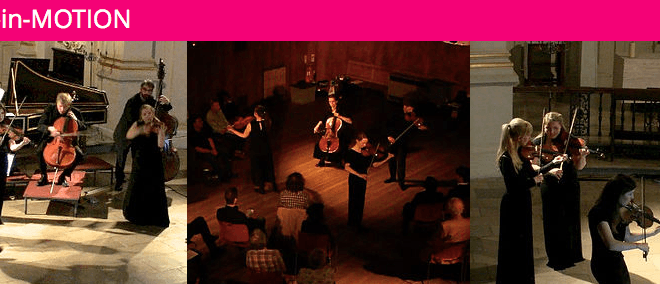 *Tickets also available for further performances on Saturday 28 October 3.30pm – 5.00pm and Saturday 28 October 7.30pm-9.00pm
Bach Brandenburg Concerto No. 3 in G BWV1048
Vivaldi Sinfonia al Santo Sepolcro in B minor RV169
Pärt Fratres
Janáček String Quartet No. 1 'Kreutzer Sonata'
Purcell Chacony in G minor
Elgar Introduction and Allegro Op. 47
Are you regular concert goer looking for something a bit different? Do you like classical music – but find concerts a bit of a stretch?
Wish there was more 'action'? Less formality? Shorter sets?
If so, you should try one of our 'Music-in-Motion' performances!
It's a completely new kind of concert where we put on a real show! The musicians are all around you, moving as they play. There are no music stands or chairs – just passionate, expressive musicians using the space and their bodies to convey the drama and emotion of the music.
You can take in your drinks, lounge on a cushion or move around between pieces, and there's plenty of intervals where you can chat with your friends.
And there's a touch of the macabre in the programme to mark the coming Halloween season. Between the exuberance of Bach's 3rd Brandenburg Concerto and the élan of Elgar's Introduction and Allegro, there's a murder in Janacek's Kreutzer Sonata, a coffin in Vivaldi's Santo Sepolcro, heartache in Purcell's Chacony and solace in Arvo Pärt's Fratres. And for our Tuesday 'Halloween' concert, a special 'Halloween Cocktail' available at the bar.
Audience reaction to Music-in-Motion:
"I was totally riveted. I felt more involved, 'inside' the music. The body-language and facial expressions helped express the music – quite terrifying at times! It felt organic, alive, more resonant and with more depth and emotion."
….and the critics:
Planet Hugill: "The players' positions and gestures responded to the drama and musical argument. The result was extremely vivid and engaging, creating a real sense of dramatic involvement in the piece."
British Theatre Guide: "A performance element helps to focus concentration in a way that is often lacking in conventional concerts. As the performers move within the performance space, the effect of the different relationships adds extra feeling and strengthens the impact."