New Works by Johann Johannsson & Hildur Gudnadottir
16th April 2016 · 7:30pm
Main Hall | Virtual event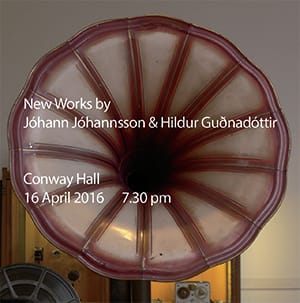 "12 Conversations with Thilo Heinzmann" by Jóhann Jóhannsson – a string quartet written by this Icelandic composer recently acclaimed for his film music – including Theory of Everything, for which he was nominated for an Oscar and won a Golden Globe, and Sicario for which he has been nominated for an Oscar this year. The quartet will be performed by Thomas Gould (violin) Sara Wolstenhome (violin) Ruth Gibson (viola) and Peter Gregson (cello).
"Music for a space with no radio waves" A solo contemplation composed and performed by the acclaimed and ethereal Icelandic cellist Hildur Guðnadóttir.
TICKETS: £25 on the door or via Eventbrite.