*ONLINE* National Secular Society: Inventing Secularism – The Radical Life of George Jacob Holyoake – book launch with Ray Argyle
22nd April 2021 · 7:00pm
Main Hall | Virtual event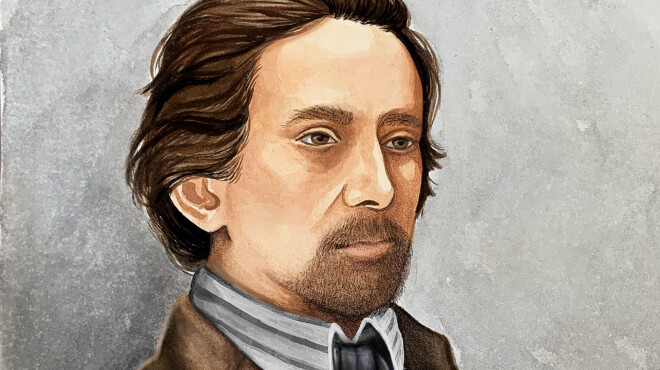 ** This is an ONLINE only event. Please register for an online ticket using the "Book Now" link **
* Conway Hall is a charity and we politely ask you to add a donation of at least £5 when registering. *
Jailed for atheism and disowned by his family, George Jacob Holyoake came out of an English prison at the age of 25 determined to bring an end to religion's disproportionate control over daily life. The story of the rise and success of secularism as a political principle cannot be told without Holyoake, who in fact coined the term 'secularism' itself.
In this launch of the new book Inventing Secularism, the first modern biography of Holyoake, author Ray Argyle will give a reading explaining how the idea of secularism came into being. He will then be joined by freelance writer and National Secular Society podcast producer Dr Emma Park to further discuss why Holyoake is hailed for having won the freedoms we take for granted today, and how Holyoake's vision rings with renewed clarity at a time when secularism is under siege worldwide.
An audience Q&A will follow.
All participants will receive a 25% discount and free shipping (UK) voucher code to buy Inventing Secularism from Eurospan Books. 
The lecture will be held by the National Secular Society, the 150-year-old campaign organisation of which Holyoake was a key member, in partnership with Conway Hall Ethical Society.
Tickets are free, but donations to Conway Hall Ethical Society are encouraged.
Inventing Secularism: The Radical Life of George Jacob Holyoake is published by McFarland & Co. (USA).
About the Author
Ray Argyle is the author of eleven books, including biographies of French President Charles de Gaulle and American Ragtime composer Scott Joplin. A journalist and media consultant, his articles have appeared in such magazines as Reader's Digest, France Today, and World War II History. He is based in Kingston, Ontario.
About the National Secular Society
Founded in 1866, the National Secular Society campaigns for the separation of religion and state and equal respect for everyone's human rights, so no one is either advantaged or disadvantaged because of their beliefs. Find out more about the NSS and how you can become a member at www.secularism.org.uk.
LINKS FOR FURTHER INFO:
Website: www.secularism.org.uk
Facebook: https://www.facebook.com/NationalSecularSociety
Twitter: https://twitter.com/NatSecSoc