*ONLINE* Sunday Concerts: Ashok Klouda & Simon Callaghan
13th September 2020 · 6:30pm
Main Hall | Virtual event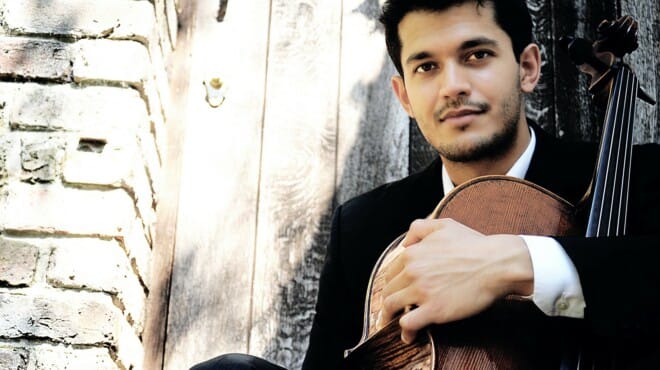 ** This is an ONLINE only event. Please register for a ticket using the "Book Now" link **
In the second of our livestreamed 'preludes' to our autumn season, Ashok Klouda joins Simon Callaghan in a programme of much-loved cello works, concluding with Beethoven's joyous, lyrical and virtuosic A major sonata.  In celebration of Beethoven's anniversary year, there will be the opportunity to hear Beethoven's complete cello sonatas in one evening on 29 November.
Programme:
Beethoven – 7 Variations in E flat 'Bei Männern, welche Liebe fühlen' WoO46
Schumann – Fantasiestücke Op. 73
Beethoven – Sonata in A Op. 69
Download the programme for this concert
Ashok Klouda started to learn the cello at the age of eight, after requesting to learn the double bass, but being told that the family car was not big enough and that the repertoire for the cello was much better (the latter did not mean much to him at the time). Speaking of the car, it was those journeys to school, listening to recordings of Paul Tortelier's Bach and Christophe Coin's Haydn & Vivaldi that inspired him greatly. All these years later, Ashok is now indisputably recognised as the leading half Indian, quarter Irish, quarter Czech (but still actually British) cellist in Buckinghamshire. Chamber music is a particular love of Ashok's and has formed a large part of his life. Ashok has performed in ensembles such as the Artea Quartet, the Fibonacci Sequence, Ensemble 360, the Jigsaw Players, cello octet Cellophony, , and the Barbirolli Quartet. Ashok is also proud to have been a member of Chineke! – the UK's only orchestra and chamber ensemble made up predominantly of BAME musicians – since its inception in 2015.
Praised for his 'velvet-gloved pianism of ravishing sensitivity' (The Strad), Steinway Artist Simon Callaghan performs internationally as a soloist and chamber musician. His recent tours have taken him to Japan, Malaysia, Thailand, Hong Kong, Canada and throughout Europe. He has performed at all of the UK's major concert halls including Wigmore Hall, Royal Festival Hall, Birmingham Symphony Hall, Liverpool Philharmonic Hall, St David's Hall Cardiff and Manchester's Bridgewater and Stoller Halls. He has recorded for Hyperion, Nimbus, Lyrita, Somm, Danacord and Convivium.
Links for further info:
Website: ashokklouda.com  |  simoncallaghan.com
Facebook: facebook.com/simoncallaghanpianist
Twitter: @ashokklouda  |  @simondcallaghan
Instagram: instagram.com/celloashok  |  instagram.com/simondcallaghan