*ONLINE* Sunday Concerts: Mithras Trio + talk from Robert Hugill
4th October 2020 · 5:45pm
In person | Virtual event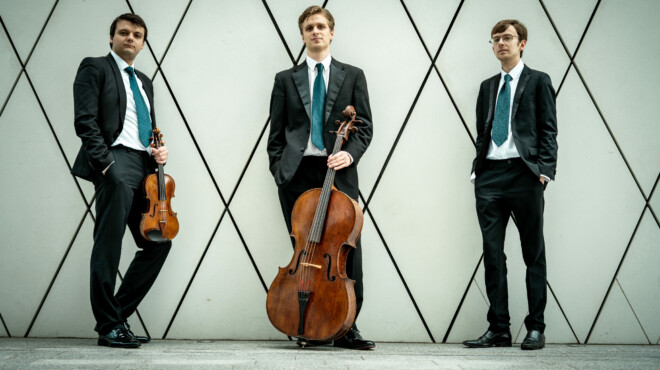 ** This is an ONLINE only event. Please register for a ticket using the "Book Now" link. We ask you to bear in mind, when registering, that Conway Hall is a charity."
Conway Hall's historic Sunday Concerts series is presenting its 2020 Autumn Season as a series of live online performances via Youtube Live, using state of the art live-stream equipment to give you the very best in audio and visual quality.
Winners of the 10th Trondheim International Chamber Music Competition, 67th Royal Over-Seas League Music Competition, Royal Philharmonic Society Henderson Award 2019, CAVATINA Intercollegiate Chamber Music Competition 2019 and the St. James Chamber Music Competition 2018, the Mithras Trio came together in 2017 at the Guildhall School of Music and Drama. We are delighted to welcome them for their début at Conway Hall.
Their performance will be preceded by a talk from writer, composer and blogger Robert Hugill: Highways and Byways of the Piano Trio – a look at how the piano trio moved from genre for talented amateurs to something more complex, and remained surprisingly popular with 19th century composers from Fauré and César Franck, to Dvorak, Tchaikovsky, and Borodin. You can download a PDF file featuring images to accompany Robert Hugill's talk by clicking here.

• Running order & programme:
5.45pm: talk from Robert Hugill

6.30pm: concert from Mithras Trio
Haydn | Trio in E Hob XV:28
Mendelssohn | Trio No.2 in C minor Op. 66
Tchaikovsky | Trio in A minor Op. 50

About the Mithras Trio
The Mithras Trio have performed at many of London's major venues, including Queen Elizabeth Hall, Purcell Room and Milton Court Concert Hall, as well as giving concerts at the Lake District Summer Music Festival, Guildhall Chamber Music Festival, Highgate International Chamber Music Festival, Leeds International Concert Season, Brighton Coffee Concert Series and Yewfield Concert Series. They were selected as Kirckman Concert Society Young Artists for the 2019/2020 season, and are on the Countess of Munster Trust Recital Scheme.
They are passionate exponents of contemporary music, having worked extensively with Helen Grime and Julian Philips, and gave the world première of a new piece by Péter Tornyai at the Solti Hall in Budapest, who dedicated the work to the Mithras Trio after working with them.
For more information visit their website (www.mithrastrio.co.uk)

We would like to express our gratitude to the CAVATINA Chamber Music Trust for their generous support of this performance.

About our Sunday Concerts
Founded in the 1880s, our chamber music concert series is the longest-running of its kind in Europe. Conway Hall was purpose-built in 1929 to host concerts and lectures, and they have continued here until the present day. The ethos of "affordable classical music for all" still remains.

** This performance will be live-streamed online using YouTube Live. A link to join the talk will be sent to ticketholders prior to the event. **