*ONLINE* Thinking on Sunday: Gender Revolution and The Domestic Labour Gap
14th March 2021 · 3:00pm
In person | Virtual event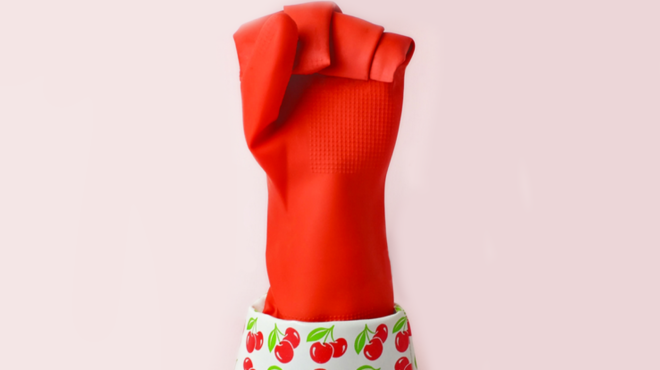 ** This is an ONLINE only event. Please register for an online ticket using the "Book Now" link **
** Conway Hall is a charity and we politely ask you to add a donation of at least £5 when registering. **
While women are making slow gains on gender disparities in the workplace, at home the gap is widening – in the UK, the average heterosexual British woman puts in 12 more days of household labour per year than her male companion, while young American men are now twice as likely as their fathers to think a woman's place is in the home. And when 'having it all' so often means hiring a nanny or cleaner, is it something to aspire to?
Sally Howard joined with a cohort of feminist separatists, undertook a day's shift with her Lithuanian cleaner, lived in a futuristic model home designed to anticipate our needs and met latte papas and one-percent parents in her lively examination on domestic duty.
She combines history and fieldwork with her personal story. Her book, The Home Stretch, is a fascinating investigation into how we got here and what the future could look like for feminism's final frontier: the domestic labour gap.
Sally Howard is a journalist specializing in gender, human rights and social trends. She is a regular contributor to Marie Claire (UK and US), the Sunday Telegraph's Stella magazine, the British Medical Journal, BBC Radio Four's From Our Own Correspondent and US feminist newsstand glossy Ms. magazine. Her first book, The Kama Sutra Diaries, was one of the Scotsman's Travel Books of the Year for 2014. She is one of the co-authors of the Sunday Times Travel magazine's coffee table book, 20 Amazing Places.
LINKS FOR FURTHER INFO:
Website:  https://atlantic-books.co.uk/book/the-home-stretch/
Facebook: https://www.facebook.com/AtlanticBooks
Twitter: @AtlanticBooks / @WanderingSal
** This talk will be held online using the Zoom application (available for PC, Mac, iOS and Android). A link to join the talk will be sent to ticketholders on the day of the event. **