Rehearsing Futures Part 2: Experiments in Imagination
13th July 2023 · 7:00pm
Doors open: 6:30pm
In person | Virtual event
Event has passed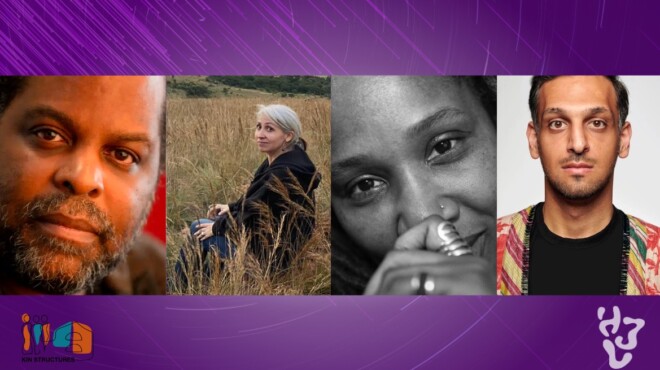 This event was previously titled Visioning & Imagination.
"We are living in the imaginaries of those long gone before us, one day people will be living in the imaginaries we've created" – Angela Davis
The work of imagination opens up possibilities to transform our society – to redesign and remake the world together. We need to imagine new futures.
Our futures are already being engineered by those in power. Trauma and oppression take away our capacity to vision and build alternatives. We need new imaginations for thriving, just, healthy and dignifying futures otherwise we'll only get more of the same oppressions.
Imagination is radical practice essential to dreaming, building, and designing new ways to be together. Join us with a panel of people working to implement and experiment with these futures through place and practice. This public conversation, organised by Healing Justice London and Kin Structures, will feature curator David A. Bailey as chair, feminist advocate and community organiser Marai Larasi, interdisciplinary artist Abbas Zahedi and Experimentalista founder Gabriella Gomez-Mont. Let us vision and reimagine our cities, environments, cultures, and relationships in a time when we cannot keep doing things the same way. Reproducing harm to ourselves and our communities is not sustainable – let us explore and leverage imagination practices to build towards liberation.
This event is part of several large-scale discussions held by Healing Justice London that are taking place in the build-up to Rehearsing Freedoms – a month-long festival of community health and healing, cultural work and movement building – taking place between October and November 2023. 'Experiments in Imagination' is the second of a two-part event Rehearsing Futures, which explores rehearsal of the futures we want to bring about. Part 1 is 'Life-Affirming Community Practice' and will explore how community responses through cultural and social practice become part of our life-affirming infrastructures. This first event will be held at Whitechapel Gallery on Friday 7 July at 7pm.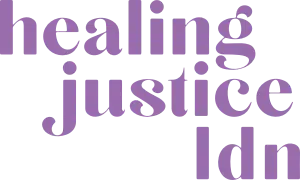 Event has passed
Further Info
This event will have BSL (British Sign Language) interpretation, both in the room and online. Unfortunately we are not able to offer closed captioning for this event; however our post-event recording will have subtitles. If you have any additional access requirements, please contact us at info@conwayhall.org.uk.