Sex on the Brain
6th February 2022 · 11:00am
In person | Virtual event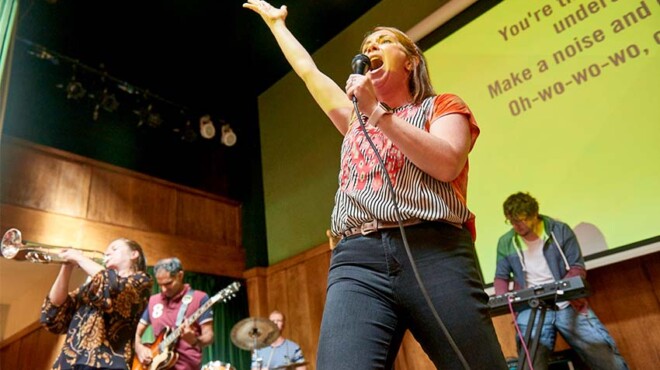 The more we study biology across the animal kingdom, the more we learn what a special evolutionary gift human sexual pleasure is. The fact that it has been deliberately maligned, misunderstood, and stigmatised throughout history should make us feel even more grateful that we live in a time when we can be free to express our true selves.
In celebration of Valentine's Day, Zoe Cormier, science communicator and author of Sex, Drugs, and Rock n' Roll: The Science of Hedonism and the Hedonism of Science, will share some amusing anecdotes which reveal deeper truths about human desire.
This assembly will be hosted by Sanderson Jones, co-founder of Sunday Assembly and founder of The Lifefulness Project. And as always, the Sunday Assembly Band will help you get your groove on, and we'll hear some poetry and words from members of our community. Please stay after for tea, biscuits, and engaging conversations.
This will be a hybrid event, which means it will be held in-person as well as live-streamed through our website, https://www.sundayassembly.com. We will make a Zoom room available for livestreamers after the assembly has finished. Link to be shared on the day.
Our assemblies are free to attend, but we kindly request that you support us so we can continue to keep it open to those who cannot afford to contribute. https://sundayassembly.enthuse.com/donate-oneoff#!/