Small Steps… Big Ideas: Truth to Power Cafe
20th October 2019 · 3:30pm
Main Hall | Virtual event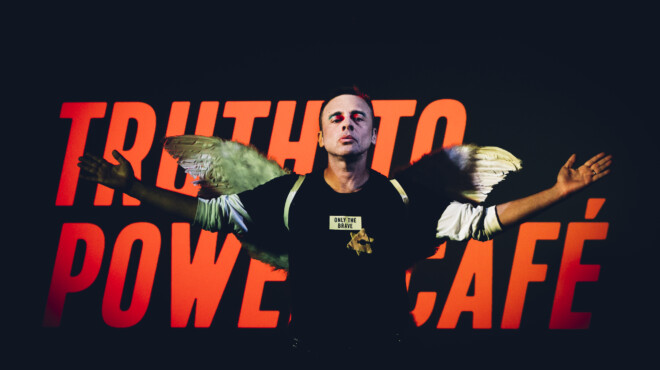 London Artists Projects present a new International performance event mixing memoir, image, poetry, music and live testimony from participants speaking truth to power in response to the question 'who has power over you and what do you want to say to them?'
Created by Jeremy Goldstein
Verse: Henry Woolf
Director: Jen Heyes
Photography: Sarah Hickson
Banners: Ed Hall
Lighting: Nigel Edwards
Music: David Bowie and Sven Ratzke
Speaking truth to power is a non-violent means of conflict resolution; the origins of which lie in the anti-war movement. In our era of post-truth, and fake-news, speaking truth to power is widely accepted to mean saying something to those in a position of trust or authority who don't want to hear it. Is it to your parents, a sibling, politician, lover, landlord, neighbour, religious leader, boss, banker, or simply your best friend? It's time to tell them the truth before it's too late.
Truth to Power Café is inspired by the political and philosophical beliefs of Nobel prize winning playwright Harold Pinter and his Hackney Gang.
Participants are cast in advance and will be drawn from the radical imaginations, institutions and residents of contemporary Bloomsbury. To sign up visit truthtopower.co.uk
"The revolutionary potential of theatre at its best and most direct" Lyn Gardner, Guardian
"Theatrical gold" The Gay UK
"The most fascinating hour you will ever spend in the theatre" BBC Lancashire
FREE – but pre-booking is recommended
—
Part of Bloomsbury Festival 2019
—
Established in 2006, Bloomsbury Festival is a creative explosion of arts, culture and science.  For five days each October, the streets, parks, museums, galleries, laboratories and public and private buildings of this vibrant cultural quarter play host up to 130 events which attract a significant audience from across London and beyond.
With a unique blend of academic institutions, businesses, cultural organisations and diverse communities, Bloomsbury has been a catalyst for ideas that have had impact across the world for hundreds of years.  Bloomsbury Festival celebrates contemporary Bloomsbury; a hotbed of creativity and pioneering development which has one of the youngest and most diverse populations in the country.
The Festival works with many large and small partners to create and deliver its annual programme.  More than simply a showcase for the area, instead Bloomsbury Festival acts as a catalyst bringing together artists and academics, scientists and dancers, musicians, publishers and school pupils to make new projects and to inspire and learn from each other.
Outside the Festival period, Bloomsbury Festival delivers community engagement and arts projects across the year. These include it's pioneering project, Festival in a Box, which takes artists into the homes of people living with dementia to provide life enhancing and joyful cultural experiences for people who are often lonely and isolated.
Above all, Bloomsbury Festival aims to be enlivening, engaging, entertaining, and fun!
—
This event is in the Main Hall on the ground floor. For accessibility info: https://conwayhall.org.uk/about/visiting-us/