Solem Quartet
15th March 2020 · 6:30pm
In person | Virtual event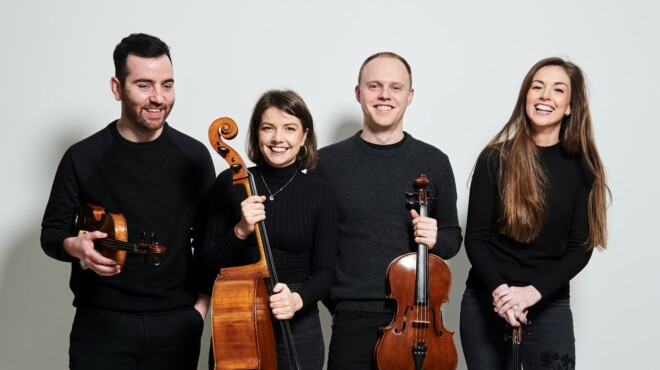 Brahms | Quartet in A minor Op.51/2 (1865)
Camden Reeves | Quartet No. 5 'Blue Windows' (world premiere) (2019)
Beethoven | Quartet in E flat Op.127 (1823-24)
Amy Tress (violin)
William Newell (violin)
Stephen Upshaw (guest viola)
Stephanie Tress (cello)
Winners of the 2014 Royal Over-Seas League Ensemble Competition, the Solem Quartet has recently performed at the Wigmore Hall, Queen Elizabeth Hall and Manchester's Bridgewater Hall. We are delighted to welcome them for their Conway Hall début in works by Brahms and Beethoven, alongside the world premiere of Manchester-based composer Camden Reeves' fifth quartet.
_
Conway Hall Sunday Concerts
Founded in the 1880s, our chamber music concert series is the longest-running of its kind in Europe. Conway Hall was purpose-built in 1929 to host concerts and lectures, and they have continued here until the present day. The ethos of "affordable classical music for all" still remains. Browse our website for more information about all our Spring 2020 Season music events, including concerts, pre-concert talks and recitals.
—
This event is in the Main Hall on the ground floor. For accessibility info: https://conwayhall.org.uk/about/visiting-us/
It is part of Conway Hall Ethical Society's charitable programme and is tax-exempt.