Sunday Assembly: We're All Valued Equally
19th September 2021 · 11:00am
Main Hall | Virtual event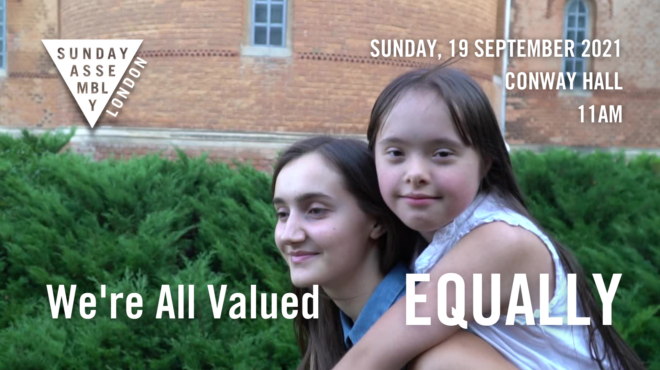 How much time do you spend with people who live with learning disabilities? Do you feel apprehensive about socialising with people who are differently abled? Bernice Hardie, co-founder and CEO of the award-winning WAVE for Change, believes that when we create spaces where people of different abilities can socialise together, everyone benefits. In her talk, she will show us how we can gain confidence and reduce anxiety by bringing all members of our community together in positive and respectful social spaces.
Hosted by street art blogger Stuart Holdsworth (@inspiringcity), this assembly will feature heartfelt sing-alongs with the Sunday Assembly London band, poetry, and a talk from a member of our community who is "Trying Their Best". Please stay after for tea, biscuits and lively conversation with our community.
 
This will be a hybrid event, which means it will be held in-person as well as live-streamed to YouTube. For in-person accessibility, we will have a BSL interpreter, and Conway Hall has step-free access and an induction loop. 
Our assemblies are free to attend, but we kindly request that you support us so we can continue to keep it open to those who cannot afford to contribute. https://sundayassembly.enthuse.com/donate-oneoff#!/ 
LINKS FOR FURTHER INFO: 
Website: www.sundayassembly.com 
Facebook: https://www.facebook.com/londonsundayassembly/ 
Twitter: @SundayA_London 
Instagram: #sundayassemblylondon