Sunday Assembly's Got Talent
8th April 2022 · 8:00pm
Main Hall | Virtual event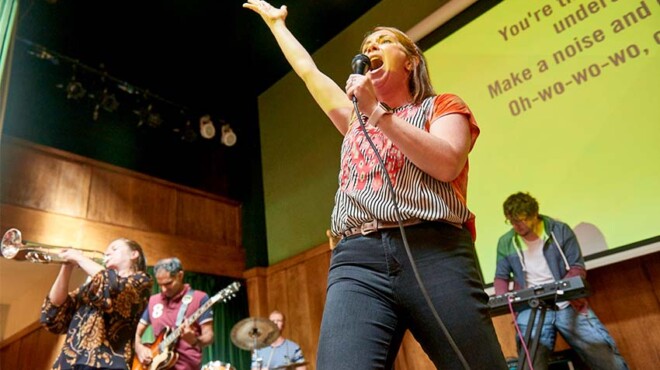 Do you like to tell jokes? Juggle? Play an instrument? Now's your time to shine in Sunday Assembly London's first-ever talent show! This all-ages event will be made by you and for you. We're looking for a wide range of acts, from poets and storytellers to magicians and musicians. So polish up your circus acts and your dancing shoes and sign up to take part. And don't worry if you've never performed before. The audience will be filled with family and friends who want to support you and cheer you on.
Life is a cabaret, old chum! Capacity for this event will be limited to 75 due to our cabaret-style seating plan, so get your tickets before they're gone. Drinks and nibbles will be served.
Emcee'd by the Host with the Most, Sanderson Jones, we're amping up the fun with a bingo game and a raffle! Sunday Assembly's Got Talent is a fundraising event for Sunday Assembly London, a secular community that celebrates life under the motto "Live Better, Help Often, Wonder More." All money raised from this event will go towards sustaining our programming for this talented community.
Please complete this form if you'd like to be in the show:
https://forms.gle/oWtMPhfSyNNTsEeJA