Sunday Concerts: Alauda Quartet
28th November 2021 · 6:30pm
In person | Virtual event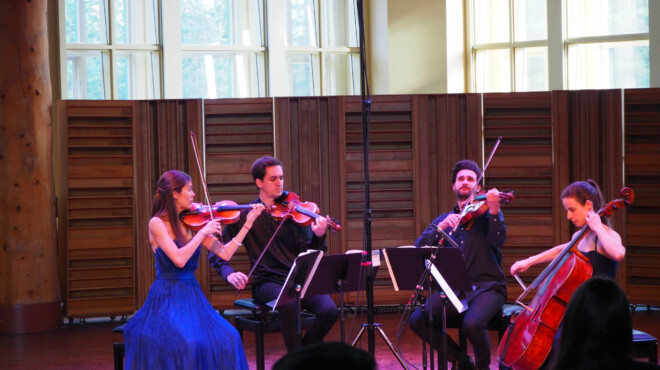 We are pleased to be able to welcome an audience for this performance, and will also stream the concert on YouTube Live and Vimeo. Attendance in person may not be possible if government guidelines change prior to the event. We reserve the right to make this event livestream only and will inform ticket holders in advance.
Formed ten years ago at the Royal Academy of Music, the Alauda Quartet is gaining a strong reputation for their performances internationally. For their return to Conway Hall they present works by two 'masters' of the string quartet genre alongside another delightful but unjustly unknown eighteenth century composer.
Cristina Prats-Costa (violin)
Milan Berginc (violin)
Ricardo Fuentes Contreras (viola)
Elena Cappelletti (cello)
Programme
Haydn Quartet in D minor 'Fifths' Op. 76/2
Asplmayr Quartet in C Op. 2/5
Mozart Quartet in E flat K428
> Visit the Alauda Quartet's website for more information
About the Sunday Concerts
Founded in the 1880s, our chamber music concert series is the longest-running of its kind in Europe. Conway Hall was purpose-built in 1929 to host concerts and lectures, and they have continued here until the present day. The ethos of "affordable classical music for all" still remains.