Sunday Concerts: Carducci Quartet & Simon Callaghan
20th March 2022 · 6:30pm
In person | Virtual event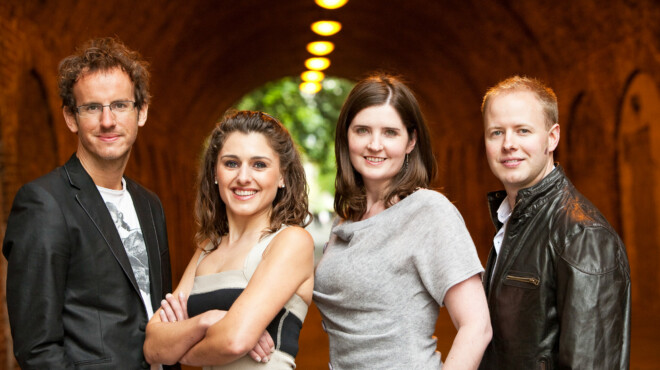 An internationally renowned Anglo-Irish string quartet based in the UK, the versatile and award-winning Carducci Quartet has performed everything from brand new quartets, classic works by Haydn, complete Shostakovich cycles, and even partnered with folk-rock icon Ian Anderson of Jethro Tull.
…the Carducci players displayed a deep and almost familial sense of unity in everything they played… full of life and vitality…extravagantly beautiful… The Washington Post
Matthew Denton (violin)
Michelle Fleming (violin)
Eoin Schmidt-Martin (viola)
Emma Denton (cello)
Simon Callaghan (piano)
Programme
Haydn | Quartet in E♭'The Joke' Op.33/2
Shostakovich | Quartet No.9 in E♭ Op.117
Schumann | Quintet in E♭ Op.44
For more information, visit:
Simon Callaghan's website >
The Carducci Quartet's website >
About the Sunday Concerts
Founded in the 1880s, our chamber music concert series is the longest-running of its kind in Europe. Conway Hall was purpose-built in 1929 to host concerts and lectures, and they have continued here until the present day. The ethos of "affordable classical music for all" still remains.
We are pleased to be able to welcome an audience for this performance, and will also stream the concert on YouTube Live. Attendance in person may not be possible if government guidelines change prior to the event. We reserve the right to make this event livestream only and will inform ticket holders in advance.