Sunday Concerts: Fidelio Trio
7th November 2021 · 6:30pm
Main Hall | Virtual event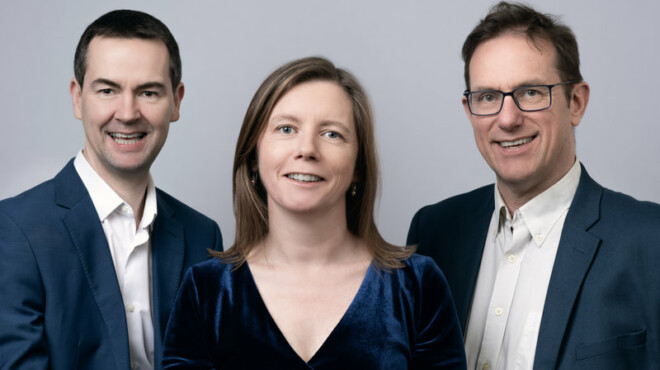 We are pleased to be able to welcome an audience for this performance, and will also stream the concert on YouTube Live and Vimeo. Attendance in person may not be possible if government guidelines change prior to the event. We reserve the right to make this event livestream only and will inform ticket holders in advance.
The Fidelio Trio are enthusiastic champions of the piano trio genre, performing the widest possible range of repertoire on concert stages across the world; they are broadcast regularly on BBC Radio 3, RTÉ Lyric FM, WNYC, NPR and featured on Sky Arts documentaries; they have an impressive list of commissions and first performances from the leading and newest composers and have a large discography of highly acclaimed recordings. Their Conway Hall programme includes the London premiere of Robert Saxton's Fantasy Pieces, which was commissioned for the trio with funding from the RVW Trust.
Darragh Morgan (violin)
Tim Gill (cello)
Mary Dullea (piano)
Programme
Haydn Trio in G 'Gypsy Rondo' Hob. XV/25
Robert Saxton Fantasy Pieces for piano trio public world premiere
Schubert Trio in E flat D929
> Visit the Fidelio Trio's website for more information
About the Sunday Concerts
Founded in the 1880s, our chamber music concert series is the longest-running of its kind in Europe. Conway Hall was purpose-built in 1929 to host concerts and lectures, and they have continued here until the present day. The ethos of "affordable classical music for all" still remains.