Sunday Concerts: Greenwich Trio
3rd October 2021 · 6:30pm
Main Hall | Virtual event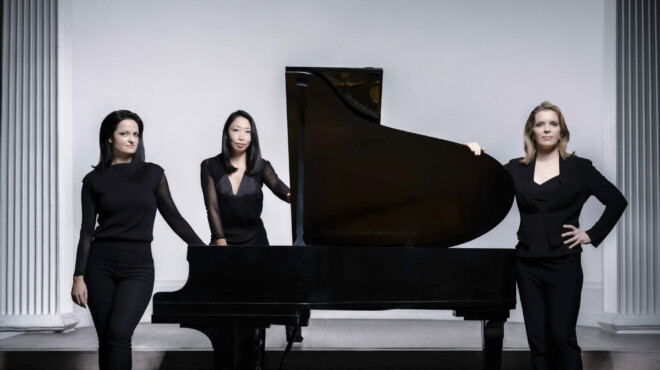 We are pleased to be able to welcome an audience for this performance, and will also stream the concert on YouTube Live and Vimeo. Attendance in person may not be possible if government guidelines change prior to the event. We reserve the right to make this event livestream only and will inform ticket holders in advance.
Hailed by Bernard Greenhouse as 'the new Beaux Arts Trio', the Greenwich Trio are gaining an increasingly strong reputation, placing the core repertoire at the centre of their work. Alongside trios by Haydn and Smetana, they present Brahms' beloved B flat Sextet in a re-working for piano trio by his friend, Theodor Kirchner, which received high praise from the composer himself.
Lana Trotovšek (violin)
Heather Tuach (cello)
Yoko Misumi (piano)

Programme
Haydn Trio in E flat Hob.XV:29
Smetana Trio in G minor Op. 15
Brahms Sextet in B flat (arr. Kirchner) Op. 18
Visit the Greenwich Trio's website for more information
The concert will begin with cellist Elizaveta Lessoun performing Tchaikovsky's Pezzo Capriccioso Op 62. Elizaveta is supported by The Susanne Beer Cello Corner Foundation which provides cello and bow loans, performance opportunities and financial assistance to talented young cellists. We very much welcome donations or loans of cellos/bows to expand the collection. Please be in touch if you have a cello or bow that might support a young musician.

Doors open: 18.00
Performance begins: 18.30

About the Sunday Concerts
Founded in the 1880s, our chamber music concert series is the longest-running of its kind in Europe. Conway Hall was purpose-built in 1929 to host concerts and lectures, and they have continued here until the present day. The ethos of "affordable classical music for all" still remains.