Sunday Concerts: London Bridge Trio
23rd January 2022 · 6:30pm
Main Hall | Virtual event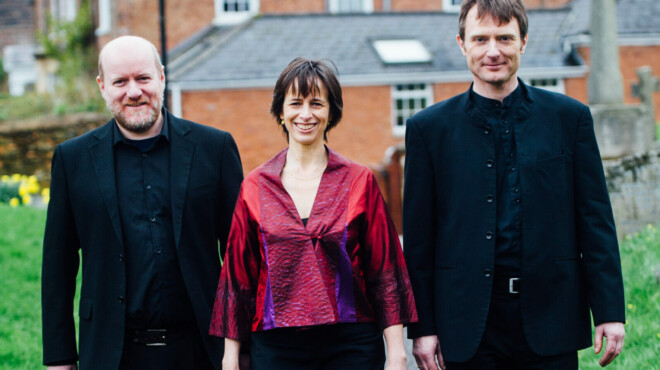 We are pleased to be able to welcome an audience for this performance, and will also stream the concert on YouTube Live. Attendance in person may not be possible if government guidelines change prior to the event. We reserve the right to make this event livestream only and will inform ticket holders in advance.
The London Bridge Trio is one of Britain's most exciting and brilliant chamber groups, whose primary focus is driven by the piano trio repertoire. Originally formed in 2002 as the London Bridge Ensemble, they continue to prioritise strong, composer-led programmes and collaborate with regular guest artists. Between Schumann and Mendelssohn comes Colin Matthews, whose 'Hidden Agenda' was premiered by the London Bridge Trio in 2017.
The London Bridge Trio aren't afraid to tell it like it is… playing that is as compelling as it is rapt. Gramophone
David Adams (violin)
Kate Gould (cello)
Daniel Tong (piano)
Programme
Schumann | Trio in G minor Op.110
Colin Matthews | Hidden Agenda
Mendelssohn | Trio in C minor Op.66
> Visit the London Bridge Trio's website for more information
About the Sunday Concerts
Founded in the 1880s, our chamber music concert series is the longest-running of its kind in Europe. Conway Hall was purpose-built in 1929 to host concerts and lectures, and they have continued here until the present day. The ethos of "affordable classical music for all" still remains.