Conway Hall Ethical Society presents:
Sunday Concerts:


Odysseus Piano Trio

24th April 2022 · 5:30pm

Virtual event | Main Hall

Event has passed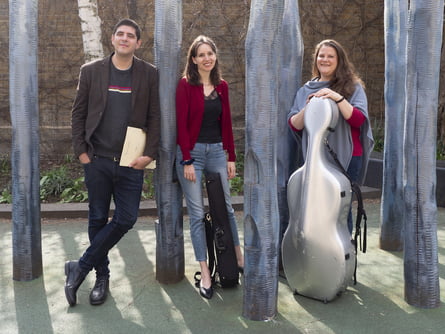 The Odysseus Piano Trio has a reputation as one of the most dynamic and distinctive ensemble to emerge in recent years. Formed by well-known and distinguished musicians, they have played at Kings Place, St. David's Hall and regularly perform throughout the UK.
The model for Helen Grime's 2011 "Three Whistler Miniatures" was musical impressionism, in a highly chromatic dialect but still focused on color and atmosphere: watery burbles, sharp, jewel-like accents and high piano notes pinging out of harmonic fog. The Washington Post
Sara Trickey (violin)
Rosie Biss (cello)
Robin Green (piano)
Programme
Schumann | Canonic Studies Op.56
Helen Grime | Three Whistler Miniatures
Schubert | Trio in B♭ D.898

> Visit the Odysseus Piano Trio's website for more information
About the Sunday Concerts
Founded in the 1880s, our chamber music concert series is the longest-running of its kind in Europe. Conway Hall was purpose-built in 1929 to host concerts and lectures, and they have continued here until the present day. The ethos of "affordable classical music for all" still remains.
Event has passed
Further Info
We are pleased to be able to welcome an audience for this performance, and will also stream the concert on YouTube Live.
Attendance in person may not be possible if government guidelines change prior to the event.
We reserve the right to make this event livestream only and will inform ticket holders in advance.