The Gardeners
18th June 2019 · 7:30pm
Main Hall | Virtual event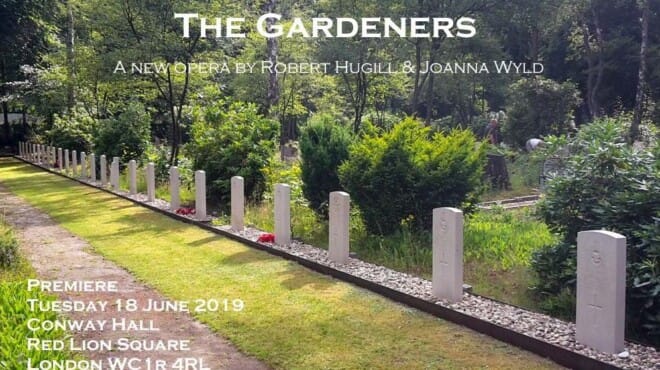 The world premiere of a new chamber opera by Robert Hugill and Joanna Wyld, a concert performance conducted by William Vann (artistic director of the London English Song Festival).
Set in a Commonwealth War Graves Commission cemetery in a war-torn country amongst the family of gardeners who look after the cemetery, The Gardeners treats the themes of tolerance, remembrance and brotherhood using the garden as a metaphor for the possibility of growth and renewal.
The graves belong to the Dead, who once invaded the land in which they lie. Tensions rise between three generations of the same family who look after war graves in a politically divided region.
'A composer of discernment, imagination and drive'
Tempo Magazine on Robert Hugill's opera 'When a Man Knows'
Cast:
The Old Gardener – Peter Brathwaite (baritone)
The Gardener – Julian Debreuil (bass-baritone)
The Angry Young Man – Magid El Bushra (counter-tenor)
The Mother – Georgia Mae Bishop (mezzo-soprano)
The Grandmother – Flora McIntosh (mezzo-soprano)
Ensemble:
Oliver Wass (harp), Charlotte Amherst (violin), May Dolan (viola), Sophie Hayns (cello), Anthony Friend (clarinet)
William Vann (conductor)