The Haunted Landscape: Magic and Monsters of the British Isles
23rd November 2019 · 10:00am
Main Hall | Virtual event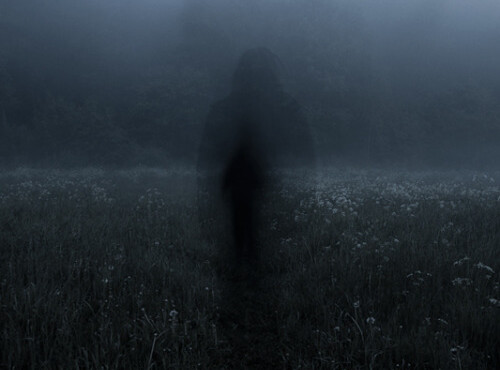 The year grows darker. The London Fortean Society and friends return to the Haunted Landscape, our one-day symposium on the folklore, magic and monsters of the British Isles and beyond. Authors and researchers discuss the undead, fairies, witchcraft, witches and their familiars and the magic of the common folk.
Up the airy mountain, Down the rushy glen, We daren't go a-hunting, For fear of little men… – Paul Devereux
The Rites and Wrongs of Autumn – Doc Rowe
Magical House Protection: The Archaeology of Counter-Witchcraft – Brian Hoggard
The Croglin Grange Vampire – Deborah Hyde
Old Stinker and Other UK Werewolves – Dr. Samantha George
Fairies: A Dangerous History – Dr. Richard Sugg
English Witches and their Familiars – Dr. Victoria Carr
England's Historic Graffiti: Voices Preserved in Stone – Crystal Hollis
Hollow Places: The Dragon Slayer's Tomb – Christopher Hadley
The Rites and Wrongs of Autumn – Doc Rowe
Up the airy mountain, Down the rushy glen, We daren't go a-hunting, For fear of little men… – Paul Devereux
In this unique illustrated presentation, Paul Devereux will be our tour leader through the haunted landscape, touching on topics such as death roads, spirit ways, fairy paths, ghosts, and actual encounters with 'other-than-humans', including his own. It's all the real stuff.
Paul Devereux is a prolific book author, with 27 mainstream books published, some of them international titles. Among many others, titles have included Secrets of Ancient and Sacred Places, Re-Visioning the Earth, The Sacred Place, The Long Trip, Sacred Geography and Lucid Dreaming.
Along with academic papers, he has also published a great many articles for popular publications, including Readers Digest, Time-Life, New Scientist, Focus, Financial Times, Prediction, etc. He is a correspondent for Fortean Times with his bi-monthly popular archaeology column. He is the co-founding managing editor of the academic Routledge publication, Time & Mind – The Journal of Archaeology, Consciousness and Culture.
Fairies: A Dangerous History – Richard Sugg
In Britain, fairies filled the landscape. They haunted rivers and seas; the air; and the earth beneath your feet. Almost anything strange in nature belonged either to fairies or the devil. People saw them, heard them, and even smelled them. In Wales they appeared at local markets and forced up prices. Sightings of fairies in the British countryside have been recounted by the most unlikely witnesses, well into the era of living memory. In Ireland especially, fairy paths, trees and forts were treated with intense reverence. If you accidentally built your house across a fairy path, you might slice a corner off the building, or abandon it altogether. And it was in Ireland that folklore met the strangest fringes of real terror. For the many disturbances credited to angry fairies were, in fact, the work of real poltergeists.
Richard Sugg is the author of eleven books, including Mummies, Cannibals and Vampires (2015), A Singing Mouse at Buckingham Palace (2017), Fairies: A Dangerous History (2017), and The Real Vampires (2019). His newest book, Our Week with the Juffle Hunters, is a children's story inspired by fairy folklore. He is currently writing Talking Dirty: The History of Disgust. He lives in Cardiff.
Magical House Protection: The Archaeology of Counter-Witchcraft
Belief in magic and particularly the power of witchcraft was once a deep and enduring presence in popular culture; people created and concealed many objects to protect themselves from harmful magic. The principal forms of magical house protection in Britain and beyond from the fourteenth century to the present day. Witch-bottles, dried cats, horse skulls, written charms, protection marks, and concealed shoes were all used widely as methods of repelling, diverting or trapping negative energies. Many of these practices and symbols can be found around the globe, demonstrating the universal nature of efforts by people to protect themselves from witchcraft.
Brian Hoggard is an independent researcher who has been studying the archaeology of magical house protection for many years. He has a  popular website Apotropaios through which he receives reports and requests for advice about these objects from all over the world. He is the author of Magical House Protection: The Archaeology of Counter-Witchcraft. 
The Croglin Grange Vampire – Deborah Hyde
In 1875, a flame-eyed creature picked at the lead in a windowpane to let himself into a remote, rented farmhouse in Cumberland. Thus started a campaign of menace against a young woman: a campaign which only stopped when her brothers tracked the creature down to its resting place in a local crypt. The Beast of Croglin Grange has entered our folklore as one of England's very few homegrown vampires. So let's take a look at the story see if we can work out what really happened.
Deborah Hyde wants to know why people believe in the malign supernatural, approaching the subject using the perspectives of psychology, sociology and history. She writes and lectures extensively about superstition, cryptozoology, religion and belief in the paranormal, with special regard to dark folklore. Deborah is Editor-in-Chief of The Skeptic magazine and is a fellow of The Committee for Skeptical Inquiry. @jourdemayne
Hollow Places: The Dragon Slayer's Tomb – Christopher Hadley
In the Middle Ages a remarkable tomb was carved to cover the bones of an English hero. For centuries the grave spawned tales about dragons and devils, giants and winged hounds. To understand why this happened, Christopher Hadley takes us on a journey through 1,000 years of history.
The story begins with a Hertfordshire dragon-slayer named Piers Shonks but soon draws us into the company of outlaws and stonemasons, antiquaries and champions. Full of wonder and always surprising, the story takes us to the margins of the Bayeux Tapestry where strange creatures gather, to ancient woodland where hollow trees hide secrets, and to the scribbled clues about folk heroes in eighteenth-century manuscripts. Along the way, we discover how long bones will last in a crypt and where medieval stonemasons found inspiration.
The story of Piers Shonks is the survivor of an 800-year battle between storytellers and those who would mock or silence them. It stands for all those thousands of seemingly forgotten tales that used to belong to every village. It is an adventure into the past and a meditation on memory and belief that underlines the importance and the power of the folk legends we used to tell and why they still matter.
Christopher Hadley is the author of Hollow Places: An Unusual History of Land and Legend.
England's Historic Graffiti: Voices Preserved in Stone
Historic graffiti are a common occurrence throughout England and the rest of Europe. Images, names, and symbols have been spotted on the walls of barns to churches, cathedrals, castles, and homes. The prevalence of these markings demonstrates their significance to the people of the past but what do these inscriptions mean and what do they tell us about the buildings where they are found?
Crystal Hollis has spent the last seven years staring at walls and deciphering their stories. She's worked on a variety of buildings across the UK and specialises primarily in church graffiti. Her previous work includes the discovery of medieval inscriptions in a transplanted French chapel in the USA and several in-depth looks at graffiti in churches in Suffolk.
Wolves in the Wolds: The Weird case of Old Stinker, the Hull Werewolf
British folklore is unique in recording a history of werewolf hauntings in places in Britain where there were once wolves. This exploration of Old Stinker, the Hull Werewolf is rooted in landscape and absence. It focuses on the climate in which the spectre of the werewolf has re-emerged (rising from the ashes of the flesh and blood wolf). It takes its inspiration from Mark Fisher's The Weird and the Eerie (2016).
Dr Sam George is Senior Lecturer in Literature and Convener of the Open Graves, Open Minds research project at the University of Hertfordshire.
English Witches and their Familiars – Dr Victoria Carr
In early modern England, the familiar was a feature of witchcraft beliefs. These creatures assisted the witch in carrying out her diabolic attacks upon her enemies. They could reach places and people that the witch could not because they often appeared as normal animals. Using stories from witchcraft trials, this talk will explore the wicked witch and her evil and demonic familiar from sixteenth-and seventeenth-century England.
These stories include details of how the witch was believed to have met her familiar, through to how she used it for personal gain and to harm others, ending in how she parted from the creature. Through these stories, the troubles and hardships of those accused of witchcraft and of owning a familiar will be explored. Those who claimed that they were victims of witchcraft will also feature, for their accounts of their entanglements with this pairing bring with it the deep-seated fears associated with those who owned familiars.
By exploring these stories of the witch and her familiar, it will become clear that this pairing was believed to have been a real threat. They represented a threat not only to the witch's enemies but even to her family and occasionally to the witch herself.
Dr. Victoria Carr's research concerns the history of the witch's animal familiar in early modern England. Dr. Carr's interests include demonic beliefs, the North Berwick witch hunt, magic, and print culture. Most recently her research has focused upon the animal familiar in Early Modern England, which was the topic of her recently completed PhD thesis.
—
This event is in the Main Hall on the ground floor. For accessibility info: https://conwayhall.org.uk/about/visiting-us/