Through a Looking Glass
19th April 2015 · 10:00am
In person | Virtual event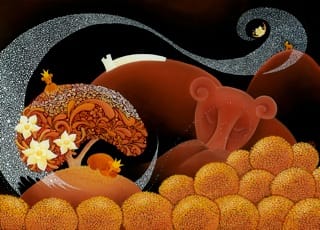 An exhibition of reverse oil paintings on glass by Melanie Hodge
Introduced to the Croatian Naive tradition of reverse oil painting on glass by today's Naive Masters, British-American artist, Melanie Hodge has taken this unique and little known technique and made it completely her own, transforming plain, ordinary window panes into looking glasses that reflect the dreaming world.
Characterised by a bright and bold palette, sweeping spirals of stars, richly detailed landscapes of wonder and flowers out of season, this exhibition will showcase how an almost forgotten tradition can inspire new directions, explore the process of painting in the reverse technique and give a glimpse into an imagination of original artistic vision, as seen through a looking glass.
This is Melanie's first exhibition in London and her second solo exhibition to exclusively feature her works on glass.
This exhibition forms part of a month of cultural activities organised by The British Croatian Society and The Croatian Embassy in London with live poetry and theatre, events, talks and presentations, all under the banner of 'Creative Croatia'.
Gallery Opening Hours
Mon 18 May – 5-6pm
Tue 19 May – 9-10.30am
Wed 20 May – 5-6.30pm
Thur 21 May – 5-6pm
Fri 22 May – 9-5pm.