Tippett Quartet / Héloïse Werner
1st March 2020 · 6:30pm
In person | Virtual event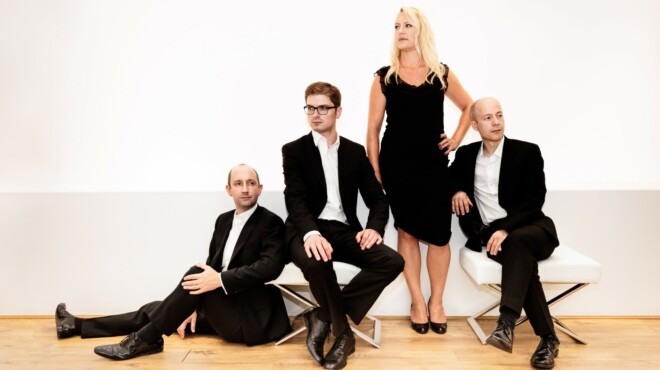 Ravel | Quartet in F (1902-03)
Freya Waley-Cohen | Spell Book (Volume 2) for soprano & string quartet – words by Rebecca Tamás (world premiere) (2020)
Poulenc arr. Bozidar Vukotic | La Courte Paille FP178 (1960)
Debussy | Quartet in G minor Op.10 (1893)
John Mills (violin)
Jeremy Isaac (violin)
Lydia Lowndes-Northcott (viola)
Bozidar Vukotic (cello)
Héloïse Werner (soprano)
Recently described by The Times as "quickly becoming a latter-day Cathy Berberian or Meredith Monk", French-born and London-based soprano Héloïse Werner was one of the four shortlisted nominees in the Young Artist category of the Royal Philharmonic Society Music Awards 2017. Freya Waley-Cohen's new commission is generously supported by the RVW Trust, Hinrichsen Foundation and Ambache Charitable Trust.
_
Conway Hall Sunday Concerts
Founded in the 1880s, our chamber music concert series is the longest-running of its kind in Europe. Conway Hall was purpose-built in 1929 to host concerts and lectures, and they have continued here until the present day. The ethos of "affordable classical music for all" still remains. Browse our website for more information about all our Spring 2020 Season music events, including concerts, pre-concert talks and recitals.
—
This event is in the Main Hall on the ground floor. For accessibility info: https://conwayhall.org.uk/about/visiting-us/
It is part of Conway Hall Ethical Society's charitable programme and is tax-exempt.