Trio Fibonacci
24th April 2016 · 6:30pm
In person | Virtual event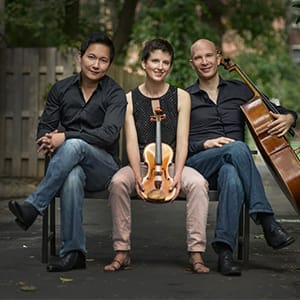 Julie-Anne Derome violin
Gabriel Prynn cello
Wonny Song piano
Mendelssohn: Trio in D minor Op.49
Haydn: Trio in G Hob.XV:25 'Gypsy'
Beethoven: Trio in B flat Op.97 'Archduke'
Based in Canada, Trio Fibonacci made its first appearance on the chamber music scene in 1998, with the press reporting that "to hear them is to enter into the world of miracles" (Le Devoir, Montreal). The Trio has been guided by some of the world's most respected chamber musicians, including Menahem Pressler, members of the Alban Berg, Guarneri and Vermeer String Quartets, and by their mentors Eberhard Feltz and Michael Vogler in Berlin.
Trio Fibonacci is internationally recognised for its interpretations of the piano trio repertoire; from the works of Haydn through to collaborations with over 40 living composers. The group has performed across Europe, America and Asia.
Download the event programme in advance to discover more about the performers and works being performed in this concert.
triofibonacci.com | planethugill.com
Pre-concert talk by Robert Hugill at 5.30pm: From Accompanied Sonata to Three Equal Parts – a Brief History of the Piano Trio.
Tickets: £10. Free entry for people aged 8 – 25 (courtesy of the CAVATINA Ticket Scheme).
Doors open at 5.30pm. A cash bar will be available from 5.45pm.