Under the Paving Stones the Beach
5th June 2014 · 12:00am
Main Hall | Virtual event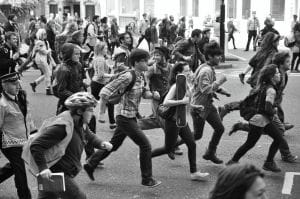 An exhibition of photography works by Darren Johnson
Darren Johnson is a London-based professional photographer whose portfolio encompasses a wide variety of events and subject matters including weddings, parties, modelling, family portraits, live events, photo shoots and articles. His work has been published in NME Magazine, The Daily Mail, 'A Day in the World' (internationally published book), The Londonist, Occupy and UK Uncut, amongst others. His approach and style to his work can be described as, in the moment, raw, emotional and bold.
"My work to date has been ever evolving and the experiences I have gained, the people I have met and the projects I have been involved in have helped me to become a better artist and to produce work that I am very proud to share. One such project that comes to mind was during the London Occupy Protests in the summer of 2012. I decided to go out to capture and chase the ongoing events during the demonstrations.  During this I liaised with both the police and protesters, building a rapport with both sides to show the truest depictions of the events".
The exhibition takes its title from the Situationist slogan from the 1968 student protests in Paris, 'Under the Paving Stones, the Beach' (Sous les Pavés la Plage), at which cobblestones were thrown at the police, exposing the sand beneath and leading to one of the best known slogans of 1968.
Whilst Darren's photographs of the London Occupy Protests 2012 correspond to the anger against the authoritarian, bureaucratic and oppressive establishment felt by the 1968 student protesters, other images in this exhibition encapsulate the spirit of 'the beach'; notions of festivity, freedom, spontaneity, self-determination and creativity that lie beneath the 'paving stones'. In these photos the urban environment is transformed into a stage set for theatre, art and creative self-expression.