World Bee Day comes to London
21st May 2019 · 6:30pm
In person | Virtual event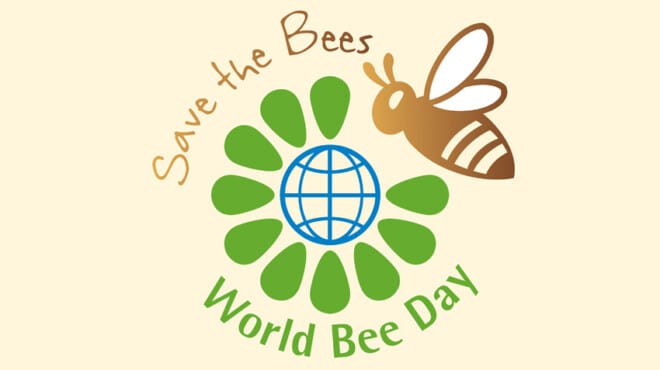 Conway Hall, the Embassy of Slovenia and Bee Midtown are hosting an event in celebration of World Bee Day.
Over 30 hives from around the world will have stands presenting products distinctive to their region including honey – in all its varieties – pollen, propolis, royal jelly and wax, as well as honey-based products including biscuits, mead, spirits, candles and more. You'll also get a chance to sample many of these.
At 7pm there'll be a welcoming address by the Slovenian Ambassador, Tadej Rupel, the Chief Executive of Conway Hall, Dr. Jim Walsh and a representative from Bee Midtown.
The aim of World Bee Day – which has been designated by the United Nations on the initiative of Slovenia – is to raise awareness of the importance of bees and other pollinators for their contribution to sustainable development, food security and biodiversity.
Bees pollinate as many as 170,000 species of plant and every third spoonful of food is dependent on pollination.
Safeguarding bees safeguards biodiversity: the vast majority of pollinators are wild, including over 20,000 species of bees.
—
At this unique exhibition devoted to bees the world over, you will taste the incredible variety of aromatic, pure raw honey from countries as diverse as Chile, Cuba, Cyprus, Montenegro, Serbia, Ukraine, Uganda and Zimbabwe. You will sample pure organic honey from the southern biological corridor of Belize, honey from delicately gathered panels of Bolivian honeycomb, wild honey from alpine regions of Georgia – the land of the oldest honey discovered, veritable nectar of the gods from Greece, Fair Trade honey from Honduras, Iraqi honey extracted from desert plants and herbs, the unique and saturated taste of Kazakh honey, and Latvian berry honey and organic bee bread supplements. Delivered straight from the hive to the jar, you will sample sustainably sourced multi-flower honeys from Nicaragua, a range of 10 different single origin types of honey from Kuyavian-Pomeranian region in Poland, and Fair Trade forest honey from Zambia produced by village beekeepers hundreds of miles deep into the forest.
Mead is considered the oldest alcoholic beverage in the world, and will be on offer in traditional and flavoured varieties from Lithuanian, Slovakian and Slovenian stands, among others. Not to be missed are 'Old Bohemian' Honey Wine from the Czech Republic and the remarkable Uruguayan Grappamiel beverage. Classic Taiwanese honey-based drinks with lemon & kumquat coupled with honey castella cake and fragrant pear jam with honey & osmanthus will be a delight as will traditional Bara Brith infused with Welsh honey, and Buffalo biscuits made with Pembrokeshire honey. Last but not least, from the organizing country of Slovenia: traditional honey cake Potica.