Why was George Orwell at Conway Hall?
Research by Carl Harrison
On 3 November 1945, the anarchist newspaper Freedom advertised a meeting organised by the Freedom Defence Committee to "Demand Amnesty", to take place at Conway Hall on 7 November. In addition, a wonderful coloured poster was issued, designed by Peter Rudland, a prolific book illustrator and advocate of improved handwriting. A number of speakers were listed, among them George Orwell. But what was the Freedom Defence Committee? Who were the other speakers? And whose amnesty were they demanding?
The story goes back a year to 12 December 1944, when Special Branch officers raided the office of the anarchist Freedom Press and the homes of the editors of War Commentary (as Freedom was known during World War II). The war was drawing to a close and the authorities, who previously tolerated War Commentary's anti-militarist and pro-pacifist stance, had become sensitive to the possibility of unrest among returning British forces. On 22 February 1945, the editors of War Commentary, Vernon Richards, John Hewetson and Philip Sansom, were charged under emergency Defence Regulation 39a with conspiring "to undermine the affections of members of His Majesty's Forces". The allegations were based on articles in War Commentary and a duplicated Freedom Press circular to members of the forces, which were construed as suggesting they hold on to their arms ahead of an impending revolution.
The three defendants were tried at the Old Bailey on 27 April, and the seriousness of the government's concern was shown by the fact that the prosecutor was the Attorney General. Fortunately, their supporters had retained eminent barristers who were able to argue (somewhat against the defendants' wishes) that they were simple idealists who had no intention of raising disaffection. The prosecution case could not have been helped by the police mixing up writings by Herbert Read (see later) on art with anarchist propaganda, and describing the defendants as members of a "Surrealist Party". As a result, they received relatively lenient sentences of one year's imprisonment and served nine months. The case against a fourth defendant, Marie Louise Berneri, was discharged (to her annoyance also) on the legal technicality that as she was married to Vernon Richards, and man and wife were legally one, she could not be accused of conspiring with her husband.
The Freedom Defence Committee
The Freedom Defence Committee was formed in March 1945, following letters from TS Eliot, EM Forster and Stephen Spender to the New Statesman, in response to the Freedom editors' arrest. However, its aims were not related only to their particular case, but to "uphold the essential liberty of individuals and organisations, and to defend those who are persecuted for exercising their rights to freedom of speech, writing and action." It aimed to do this by aiding "individuals or organizations, irrespective of their political or other views, the nature of the attack on their freedom being the sole criterion for action". Support would be by "publicity, through protest meetings, articles, letters in the press, questions in Parliament, etc.", and by "legal and financial aid, wherever this is necessary and possible".
The Committee was chaired by the eminent art historian, philosopher, poet and anarchist, Herbert Read, who gave a number of speeches in support of "the proud right to claim freedom of speech and the liberty of unlicensed printing". Its vice chairs were Fenner Brockway and George Orwell. Its secretary was initially the socialist writer and activist Ethel Mannin, subsequently the Canadian anarchist writer and thinker, George Woodcock. Its impressive list of sponsors included Bertrand Russell, Aneurin Bevan, Alex Comfort, Vera Brittain, Augustus John, Henry Moore, Peter Pears, Cyril Connolly, J.B. Priestley, Michael Tippett, Sybil Thorndike, and many other leading cultural figures of the day, as well as George Padmore and two names well known at Conway Hall, Chapman Cohen and C.E.M. Joad.
The Conway Hall meeting was to be chaired by Fenner Brockway, whose name is, or should be, familiar to many who visit Conway Hall or pass his statue at the entrance to Red Lion Square. And, of course, George Orwell needs no introduction, though it is worth noting that when he spoke at Conway Hall he was still enjoying his success in finally getting Animal Farm published some three months earlier. But who were the other named speakers: Philip Sansom, Stuart Morris, George Padmore and Ernest Silverman?
Philip Sansom (1916-1999)
Philip Sansom was a leading figure in the London Anarchist Group (although as a good anarchist he actively repudiated the title of "leader"). A striking figure, with a "great leonine head with its luxuriant red hair and beard … rich baritone and coruscating wit", he was a "charismatic orator", particularly in the open air at Speakers' Corner, and apersuasive debater, including on his not infrequent appearances in court. He was brought to the April 1945 trial from Brixton Prison, where he was already serving two months for "being in possession of an army waterproof coat and for failing to notify a change of address". His presence at the Conway Hall meeting must have been in a short period of freedom between his release from his sentence for sedition and his return to prison for refusing conscription into the Forces. As late as 1981, he was imprisoned once again for refusing to complete a census form.
Philip Sansom had a varied journalistic career, beginning as a commercial artist before being drawn to anarchism and working for Freedom Press, writing, editing, and drawing cartoons for War Commentary and Freedom. Later he edited, successfully, the journals Sewing Machine Times and Loading Machine Times, despite, it is reported, on one occasion mixing up his roles and treating the readers of Sewing Machine Times to a vigorous defence of a miners' strike. At other times he worked with George Melly, the jazz singer and wit, at the London Gallery (incidentally a Surrealist art gallery).
As an activist, following the execution of Derek Bentley in 1953 he organised a campaign against capital punishment which was the basis of the (eventually successful) National Campaign for the Abolition of Capital Punishment. In 1959, he led an occupation of the Cuban embassy to protest against Fidel Castro's treatment of Cuban anarchists.
The Malatesta Club
Another notable role for London anarchism was as "instigator" of the "celebrated" Malatesta Club (named for the Italian anarchist Errico Malatesta). This meeting place for the London Anarchist Group ran first in Holborn and then in Soho, between 1954 and 1958. It was open daily with a full programme of lectures, readings, discussions, music (especially jazz and skiffle), performances including satirical reviews, a youth group, summer schools, film festivals and more. Another of the founders was our very own, late lamented, Donald Rooum, who eventually contributed an obituary of Philip Samson to The Guardian. Donald recalled that in later life Philip Sansom was a bingo caller at his old people's club in Camden, and had married "at least" one refugee in order to give her a British passport.
The Malatesta Club also provided space for an African group calling for independence in Nigeria, Kenya and what became Tanzania. Among the attendees was the novelist Doris Lessing. On 25 September 1956, George Padmore spoke there on "Nationalism and Tribalism in Africa".
George Padmore (1903-1959)
George Padmore was an intellectual, writer and activist, a central figure in the history of campaigning for pan-Africanism and African independence, and for anti-colonialism more broadly. Born Malcolm Nurse in Trinidad, he initially worked there as a reporter before moving to the USA in 1924 to study medicine. There he joined the Communist Party and adopted the pseudonym George Padmore, which he always used subsequently. After spells in the Soviet Union, Austria and Germany, as promoter and organiser of Black trades union groups, he eventually became disillusioned by the Soviet reduction of support for anti-colonial movements in favour of anti-fascist alliances with the colonial powers, left the movement and took refuge in London. There in the later 1930s and 1940s he was at the centre of a loose community of anti-colonial writers and activists which included, among others, CLR James, Jomo Kenyatta and Kwame Nkrumah. The members of this grouping shared a belief in publishing as a strategy for political change, and were prolific publishers of pamphlets, periodicals, articles and books, and writers of letters to newspapers. George Padmore's role as adviser to Nkrumah was maintained after the latter's return to Ghana to lead the independence movement and then the country after independence, and George Padmore's last years were spent in Ghana.
In 1945, in the last stages and immediate aftermath of World War II, George Padmore was extremely active in the revitalisation of anti-colonial struggles. He was a key figure in the celebrated Fifth Pan-African Congress, held in Manchester in October 1945, and involved in several related meetings in London in the second half of 1945. On 15 July he spoke at a meeting at Conway Hall in support of a strike in Nigeria for an increased minimum wage and to protest government threats to imprison the political leader, later first President of Nigeria, Nnamdi Azikiwe, and shut down his newspapers.
At least two of these meetings were also attended by Fenner Brockway, including one on 9 November 1945, just two days after the "Demand Amnesty" meeting at Conway Hall, to protest the use of Indian troops against the peoples of South-East Asia. George Padmore spoke at this meeting, alongside Brockway and the legendary W.E.B. Du Bois. Previously, in 1939, Padmore and Brockway had organised a conference which formed the British Centre Against Imperialism, now known as Liberation. Clearly, they knew each other well as fellow members of the London activist community, so it is no surprise to find them together on the Conway Hall platform.
The George Padmore Institute in Finsbury Park, an archive, educational research and information centre on black communities of Caribbean, African and Asian descent in post-war Britain and continental Europe, is named in his honour.
Stuart Morris (1890-1967)
Stuart Morris came from a rather different background. An Anglican priest, he served as Chaplain to the Fleet Air Arm in the First World War until asked to resign after preaching pacifist sermons. He went on to become a Canon of Birmingham Cathedral and was expected to become a bishop. Instead, influenced by Canon Dick Shepherd, founder of the Peace Pledge Union (PPU), he became convinced of the need for pacifism and renounced Holy Orders in 1939. He had already become Shepherd's successor as Chairman of the PPU in 1937, and from 1939 he was its General Secretary.
The stance of the PPU in relation to the rise of the Nazis in the 1930s is still a source of controversy. Despite membership across the political spectrum, with strong Christian representation, the PPU was generally supportive of German grievances over the punitive Treaty of Versailles, and of the policy of appeasement. There was also said to be fascist infiltration of the PPU, and some joint membership of The Link, a pro-Nazi "Anglo-German friendship" organisation which also opposed war with Germany. Morris is said to have been a member of The Link but repudiated any connection between the two organisations. Suspicion of pacificism and the PPU was widespread. In 1941, George Orwell had been blunt: "Objectively, the pacifist is pro-Nazi".
After the outbreak of war, the PPU continued to argue for a negotiated peace. While the organisation was not banned, several members were prosecuted. In May 1940 Stuart Morris was one of six leading activists convicted, but not imprisoned, for endeavouring "to cause among persons in His Majesty's Service disaffection likely to lead to breaches of their duty", very close to the charge against the editors of War Commentary in 1945. At a second, secret trial in 1942, Morris was sentenced to nine months' imprisonment for handling secret government documents he was said to be planning to pass to Gandhi and the Indian independence movement. The PPU dissociated itself from his actions, but he was to remain its General Secretary until 1964.
So, Stuart Morris, like Philip Sansom and Fenner Brockway, had experienced imprisonment for his anti-establishment beliefs, and shared their and George Padmore's anti-colonialist stance. Despite his antipathy for pacifism, clearly George Orwell did not object to sharing a platform with him.
Ernest Silverman
The last speaker is something of an enigma. Little is easily discoverable about Ernest Silverman, so it is probably best simply to quote the description by Colin Ward. Colin Ward was one of four soldiers called by the prosecution in the War Commentary/Freedom trial, all of whom testified that they had indeed received the offending material but denied that they had been disaffected. He went on to become another leading British anarchist, editor of Freedom and author of the influential sociological study The Child in the City. Colin Ward wrote:
"The defence solicitor was a man named Rutledge, who was overshadowed by his clerk, the genial and flamboyant Ernest Silverman, a tragic character most of whose life was spent in prison for innumerable cases of petty embezzlement (he later died in Parkhurst serving a long sentence of preventive detention). The Freedom Press trial was probably his finest hour. He was certainly a good and honest friend to the defendants, and they in later years made great efforts to alleviate his lot. Ernest briefed some very eminent barristers: John Maude (later a Tory MP and a judge) to defend Hewetson and Richards, Derek Curtis Bennett for Marie Louise, and James Burge for Philip Sansom."
The Freedom Defence Committee: Impact and After
The War Commentary/Freedom trial seems to have struck a chord at a particularly sensitive time.  The Freedom Defence Committee synthesised several anti-establishment strands in the specific circumstances of the final stages of World War II.
As it became increasingly clear that the remaining Axis powers were losing, there was growing disillusionment among the armed forces with the continuing war. While Churchill was still personally popular as a war leader, the Conservative party was much less so, and the general war weariness was shared among the civilian population. Recalling unrest and mutinies among the returning forces at the end of the First World War, the government was becoming increasingly anxious, and this probably drove the decision to move against the anarchists, who it had generally tolerated previously.
Suspicion of government intentions was shared beyond the small radical political groups attacked. The tradition of British sympathy for freedom of expression and of the press was strong in the cultural circles heavily represented among the Committee and its supporters. Many of these cultural and public figures, particularly on the centre and left, were suspicious that a government used to curtailing personal liberty in wartime could continue to use the wartime emergency provisions to suppress political opposition.
Herbert Read, as both a leading art critic and an anarchist, represented the cross over between these two groups, and played a key role in the Committee and its campaigns. He wrote and lectured extensively, pressing the argument that the case of the anarchists represented an attack on traditional British liberties and freedom of speech, and a warning of the dangers of a continuing authoritarianism and "that foul and un-English institution, the political police" into peacetime. Herbert Read's speeches were collected by George Orwell and are among Orwell's extensive collection of political pamphlets in the British Library.
In the event the political landscape changed suddenly with the landslide Labour victory in the General Election of July 1945. Subsequently, despite the continuing suspicion of authoritarianism among anarchists and other radical leftists, and also some among the cultural circles who had supported them (not least George Orwell whose Nineteen Eighty-Four followed in 1949), support for the Freedom Defence Committee seems to have faded.  It remained in being, with the intention of maintaining "vigilance" against "the infringement of civil liberties", and campaigning on issues such as the continuation of military and industrial conscription after the war. Among the individuals supported in the latter context was, again, Philip Sansom, who on the day before release from his sentence for sedition received notice of conscription into the forces and was given a further six months for refusal. Subsequently he thanked "my comrades of the Defence Committee" and the New Statesman for a vigorous campaign on his behalf, as a result of which he was released after six weeks.
But by September 1948, the Committee was in urgent need of funds, prompting an appeal by Herbert Read and George Orwell, together with Benjamin Britten, EM Forster and Augustus John, in the Socialist Leader. The Committee was dissolved the following year. The Committee's correspondence and three issues of its bulletin are held by the International Institute of Social History in Amsterdam, which also holds papers of Nicholas Walter (1934-2000), another leading anarchist and prominent past member of the Ethical Society.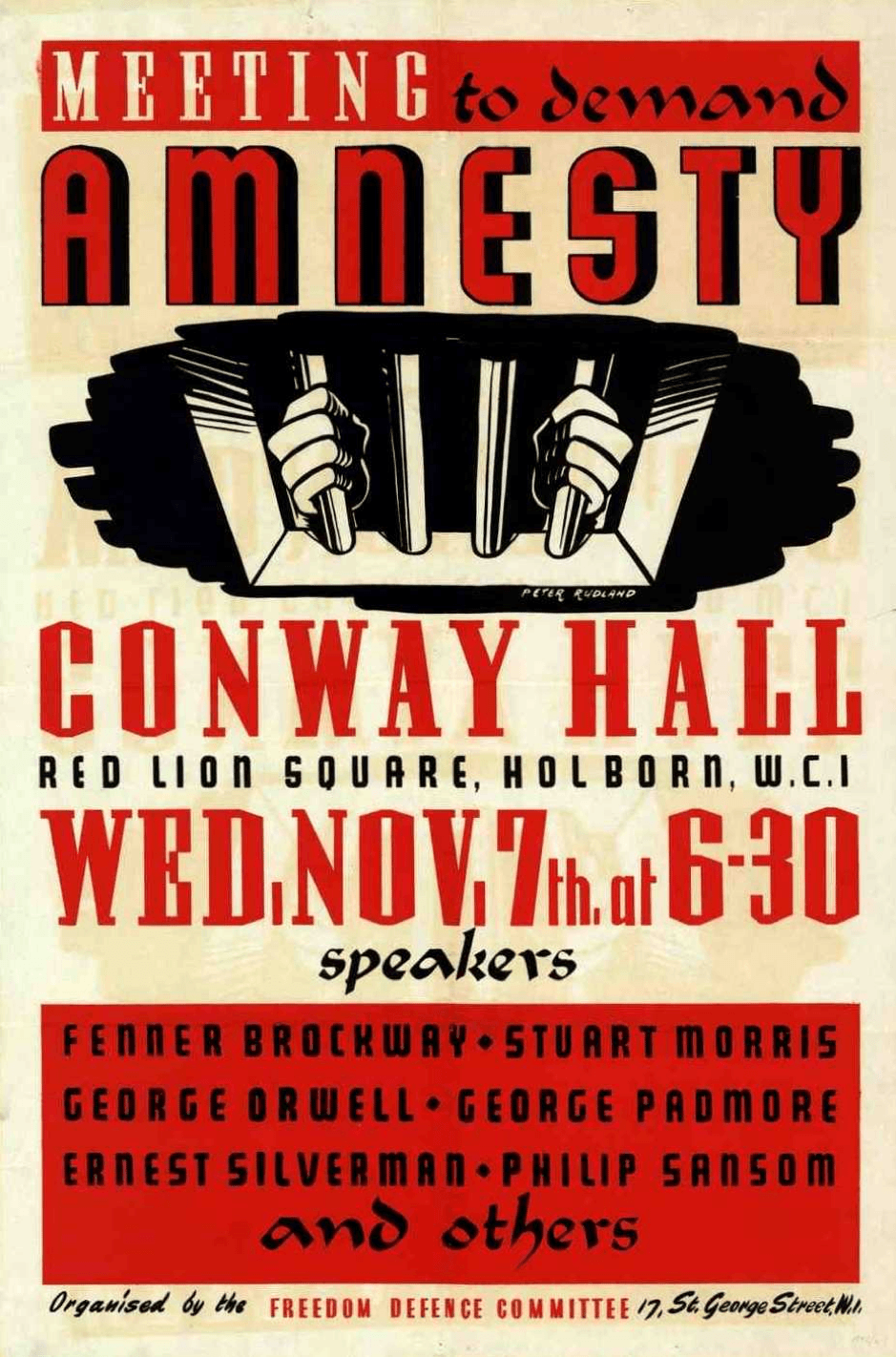 SOURCES
Vernon Richards | Books | The Guardian
Freedom Defence Committee – Wikipedia
Freedom Defence Committee brochure (katesharpleylibrary.net)
Witness for the Prosecution | The Anarchist Library
George Orwell and the Strange Case of the Three Anarchists Jailed at the Old Bailey – Untold lives blog
Obituary: Philip Sansom | The Independent | The Independent
Philip Sansom | | The Guardian
Anarchists against the Army – Philip Sansom (libcom.org)
A British Anarchist Tradition: Herbert Read, Alex Comfort and Colin Ward – Carissa Honeywell – Google Books
Anarchism and the British warfare state: the prosecution of the 'war commentary' anarchists, 1945 (libcom.org)
History is made at night: The Malatesta Club in Soho (history-is-made-at-night.blogspot.com)
History is made at night: The Malatesta Club in Soho (history-is-made-at-night.blogspot.com)
ROOUM, Donald – Not Just Hockney
Donald Rooum, UK atheist, anarchist and artist dead at 91 | Barry Duke (patheos.com)
In Memoriam: Atheist, Anarchist and Artist Donald Rooum – downthetubes.net
Reader Anarchists Orwell Augustus (orwelltoday.com)
Not Found (georgepadmoreinstitute.org)
George Padmore: The Voice of Coloured Labour (1945) (architexturez.net)
The All Colonial Peoples Conferences in Britain, 1945 : Centre for African Studies (LUCAS) (leeds.ac.uk)
Peace Pledge Union – Wikipedia
Scanned Image (thesparrowsnest.org.uk)
MI5, the Cold War, and the Rule of Law – Keith Ewing, Joan Mahoney, Andrew Moretta – Google Books
The Link (UK organization) – Wikipedia
Vera Brittain: A Life – Mark Bostridge, Paul Berry – Google Books
Pacifists failed Vera's Britain – The Jewish Chronicle (thejc.com)
Rudland Hand | Harold's Fonts (haroldsfonts.com)
From Scribble to Script – Peter Rudland – Google Books
corres, and case files | The National Archives Freedom Defence Committee
Search | IISG archives at International Institute of Social History
Detail | IISG Conway Hall meeting poster
Holdings: Meeting to demand amnesty. (iisg.amsterdam)
www.bl.uk/collection-items/collection-of-pamphlets-mainly-political-formed-by-george-orwell?_ga=2.189222379.1586369294.1640606718-1328741611.1640606718