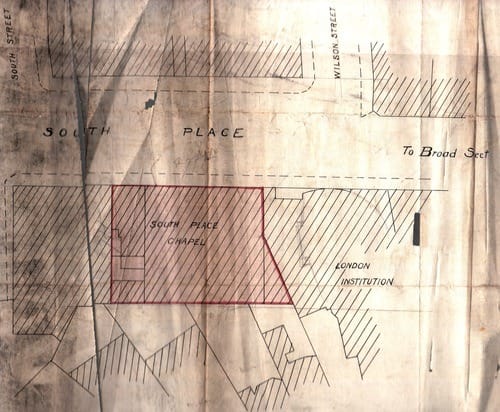 Now the location of Finsbury Circus House, (opposite South Place Hotel), this 1820s plan gives a fascinating glimpse into old London by revealing the exact location of South Place Chapel (later, South Place Ethical Society).
Comparing the plan with a modern map, changes in the area are instantly clear. Broad Street is now known as Eldon Street; South Street as Dominion Street. The building occupied by the London Institution, (with whom the Committee of South Place Chapel had a minor disagreement with in May 1823 regarding work on the Chapel), has also vanished.
Any surviving drawings of the façade of South Place Chapel have yet to be uncovered in the archives, but by using these invaluable plans, researchers can pin-point the birth place of the Ethical Society, further illuminating the rich history of radical London.
Images © Conway Hall Ethical Society
Humanist Library and Archives reference: SPES/3/2/13
---