Hidden within the archives of the National Secular Society were the minute books and attendance records for a small but influential society called The Grecian Club.
The Grecian Club was established by Kenneth Ingram and a committee which included DF Brundict, VE Pullin, A Sandilander, Canon Carpenter, and Lord TJ Word.
The first meeting was held on 17 October 1930, and Ingram is recorded as having told the attendees that:
"for some time he had believed that there was room in London for a Society which should provide a central platform for the discussion of religious and philosophical questions from as many varying standpoints as possible".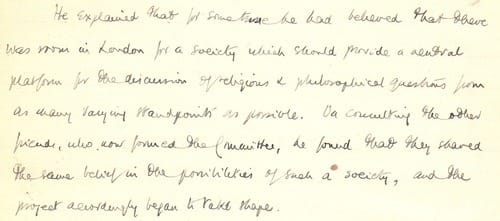 The Club name was taken from a coffee-house of the same name which had operated close to The Temple. The shop had been a regular haunt of freethinkers including "Sir Isaac Newton, Sir Hans Sloane and other fellows of the Royal Society".
The Club continued to meet for the next three decades. Although traditionally attended by influential men, in 1963 the Club showed it's willingness to adapt to changes in society by holding their first 'Lady's Night'. The meeting attracted a large turn-out compared to other meetings in that year.

The minutes also include summaries of all the talks and debates given at the Club which address the major questions of the day. This newspaper cutting from the Manchester Guardian in April 1959 conveys the success and influence of the Club: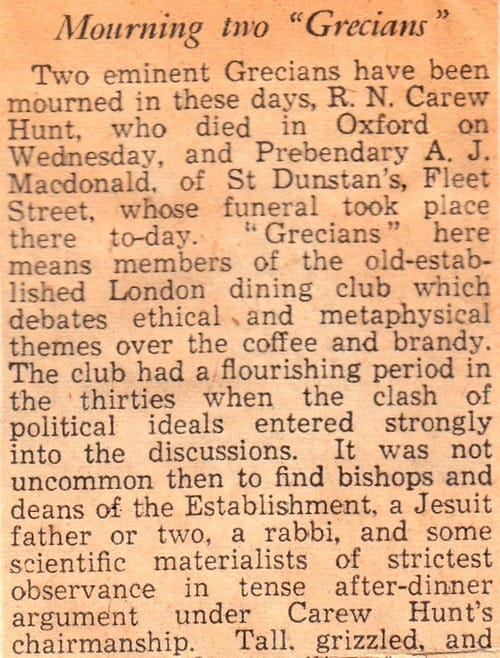 Image © National Secular Society

Humanist Library and Archives reference: NSS/4/4/24-30
---